Balsamic Zucchini Noodles (Raw, Vegan Recipe)
These zucchini noodles with Guerzoni's premium balsamic vinegar will power up your plate with a uniquely bittersweet, aged flavor.
Raw Zucchini Noodles with a Perfect Balsamic Dressing
The team behind Producers Stories is crazy about food—especially food with a story to tell. We're passionate about bringing farm-to-table flavors into your home with recipes, product spotlights, and blogs highlighting our farmers' voices.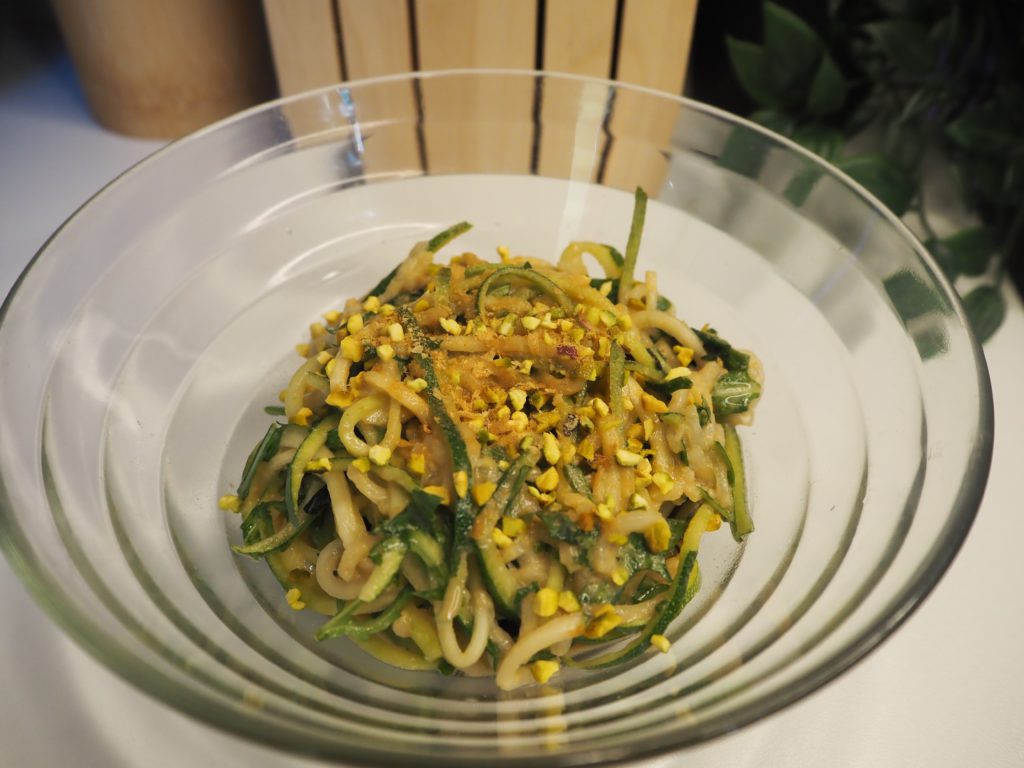 If you are looking for a light pasta, zucchini noodles are the answer. Zucchini is such a versatile ingredient. Thanks to its high water content and firm texture, it can go from being a perfect juice ingredient to the ultimate raw, vegan noodles. All you need is a spiralizer; there are many versions, and they are easy to find.
Zucchinis are an ideal main ingredient for a light, fresh dish that's a bit more exciting than salads. These raw, vegan zucchini noodles are quick to prepare and highly nutritious. They give us the high-powered efficiency for days when we are low on time but still want a special, tasty, energizing meal.
For a fresh salad feeling, there are two ingredients that can't be missed: olive oil and balsamic vinegar! The neutral green flavor of the zucchini shows off the flavors we pair with it.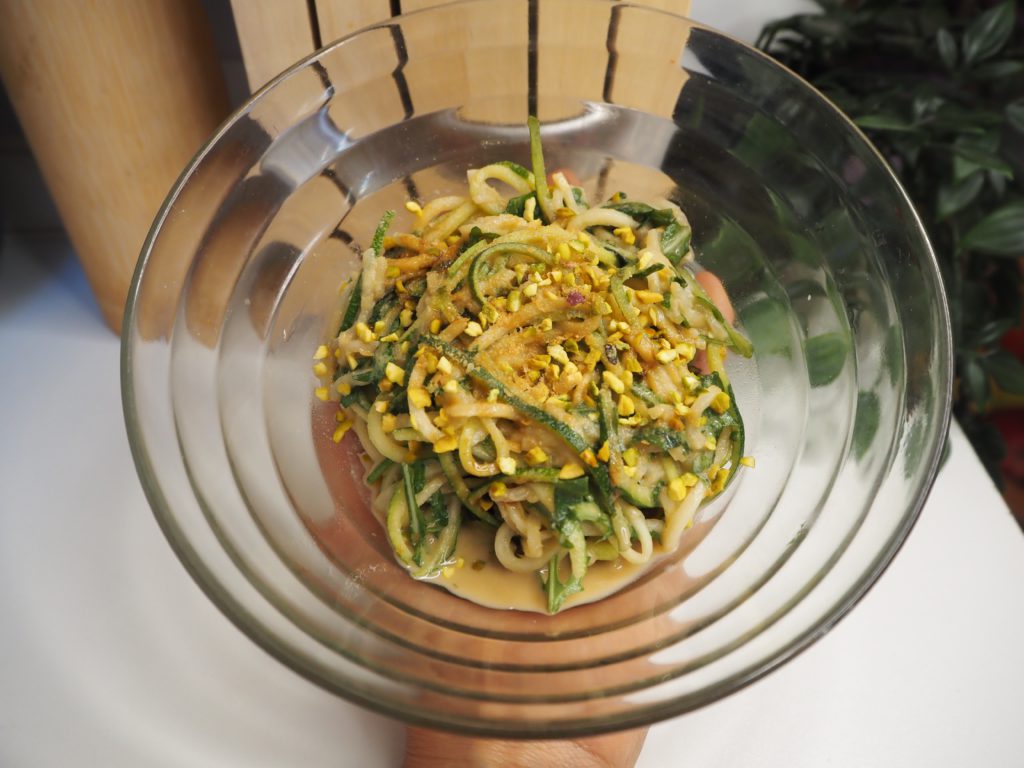 We are happy to share with you this tasty, creative option for making the most of your fresh veggies. It is great as a main or side dish–for lunch or for dinner.
More often than not, the philosophy of "less is more" applies perfectly to our meals, especially if we have high-quality ingredients like Guerzoni's biodynamic balsamic vinegar. This biodynamic product is exceptional, from the producer's special treatment of its grapes, to their holistic processing, which bring a unique, bittersweet flavor to the consumer.
Knowing our farmer makes everything we consume special. Of course, now the "secret ingredient" in this dressing isn't so secret anymore!
Ingredients
1 large zucchini

2 Tbsp olive oil

1 Tbsp Tahini

⅓ cup fresh Arugula

⅓ cup fresh Basil

1 pinch of salt

Black pepper (optional, to taste)
Topping
1 Tbsp nutritional yeast

2 Tbsp crushed

pistachios
Preparation
Wash and spiralize zucchini. Set aside.

Julienne the arugula and basil. Set aside.

Add balsamic vinegar, tahini, olive oil, salt and pepper to a bowl and mix well to create the dressing.

In a large bowl, add the zucchini, arugula, basil and dressing, and mix it all together.

Add suggested toppings or any other toppings you desire, and enjoy!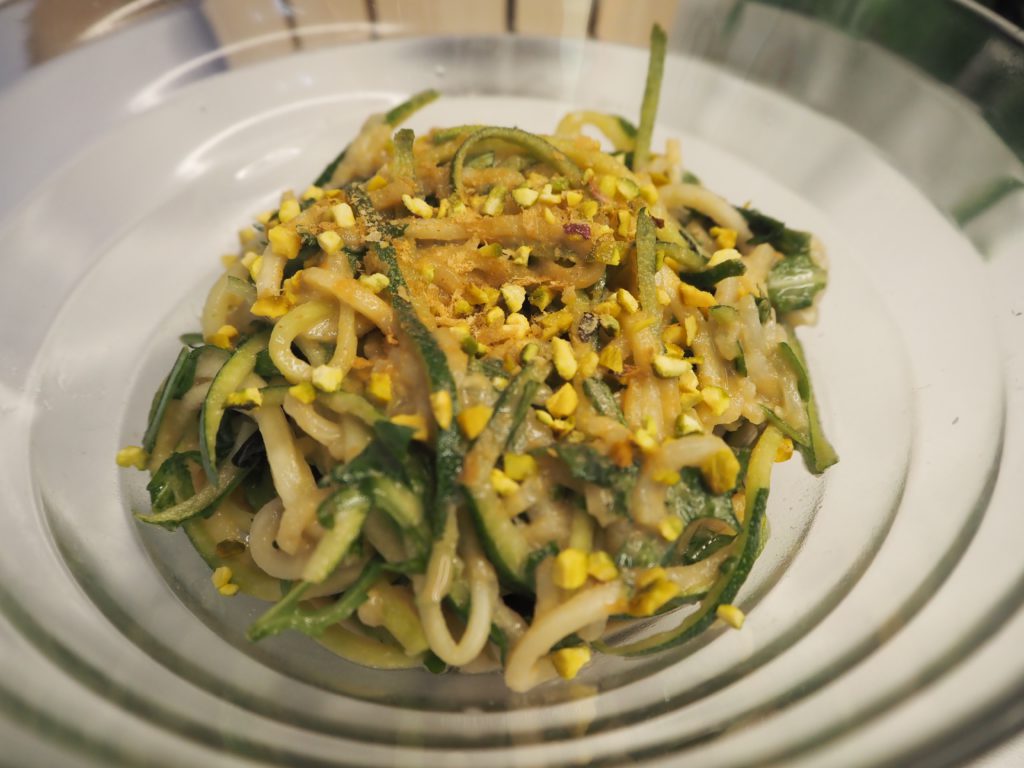 ---
Discover loads more recipes on Producers Stories, or follow us on Instagram for more gastronomic inspiration.