Olive Oil: Healthy Fat, Liquid Gold
Olive oil is often considered a healthy fat, sometimes a liquid gold, and always a delicious addition to many meals.
Olive Oil 101 & Producers Around the World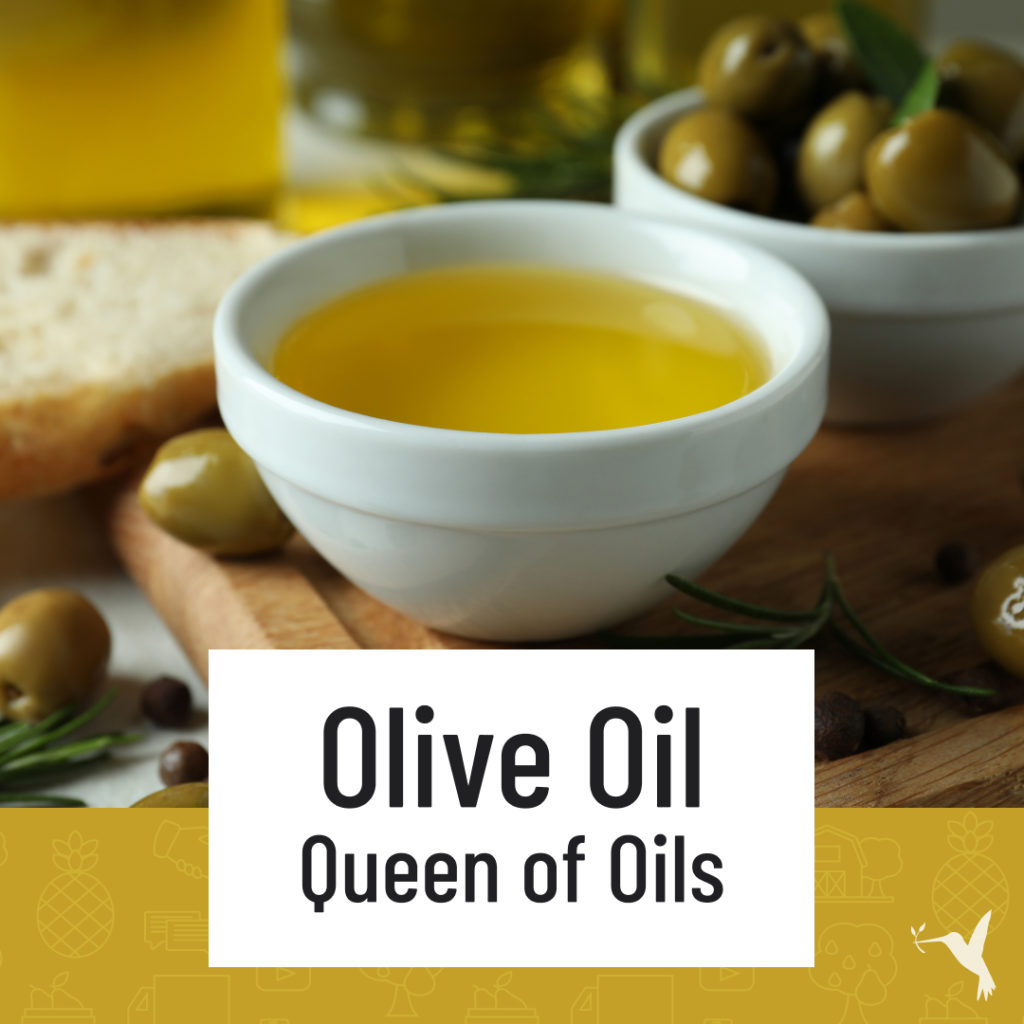 Olive oil, the nutty, tasty, ubiquitously drizzled queen of oils, is a healthy liquid fat that comes from the fruit of the olive tree. This tree crop grows around the Mediterranean Basin, producing olives and olive oil in this region since the eighth millennium BCE.
While dietary fats are a highly controversial topic, most sources agree that extra virgin olive oil is healthy fat. Most people also agree that it is incredibly delicious. And while there are many other contributing dietary factors, it is true that people consuming a Mediterranean diet are some of the healthiest in the world.
Olive oil has historically been a star player in cuisines across the Mediterranean region. It is now also a common household product in kitchens around the world. It is diverse and rich, making versatile appearances in both luxury cuisines and everyday meals.
Where Does Olive Oil Come From?
The top producers of olive oil are Spain, Morocco, Italy, Greece, and Turkey. The United States produces olive oil specifically in California. Olive oil is also a major product of Tunisia, France, Portugal, and Egypt. The country with the highest consumption of olive oil and its healthy fat is Greece, with Spain and Italy trailing closely behind.
To create olive oil, producers press the olives to extract their oil in an incredibly simple production process. Modern methods involve crushing the olives, mixing them together, and then separating the oil from the pulp in a centrifuge.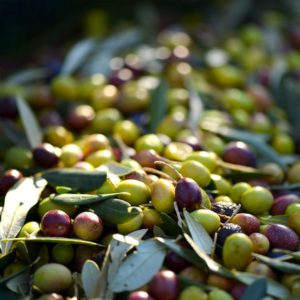 Extra-virgin or Regular: The Basics of Olive Oil
While the process of olive oil extraction may be natural and simple, there are a few things to know about different types of olive oil, how they are produced, and how to choose the right type for the right dish. We are here to break it down for you.
There are three main grades of olive oil: refined olive oil, virgin olive oil, and the queen, extra-virgin olive oil, or EVOO, as many recipe and cooking sites call it.
Extra-virgin olive oil is the first product of the extraction process, made by grinding olives into a paste and then pressing them to extract the oil. Extra-virgin olive oil is considered cold-pressed, because no heat or chemical solvents are used in the production process. The resulting oil has a fruity aroma, a forest-green color, a grassy, peppery flavor, and many valuable health benefits.
Extra-virgin olive oil is high in monounsaturated fatty acids, containing about 75% by volume. When substituted for saturated fat, monounsaturated fats can help lower your "bad" LDL cholesterol. The antioxidant and anti-inflammatory properties of olive oil add benefits beyond cholesterol lowering, with naturally occurring phenolic antioxidants left intact in the cold-pressed production process.
Any cold-pressed oil that doesn't meet international standards for extra-virgin olive oil is then refined to get rid of undesirable impurities, giving the oil a more neutral flavor and lighter color. It's then blended with a bit of premium EVOO to produce what's labeled as just "olive oil."
The natural extraction methods take a significant amount of time, and the standards for purity and other qualities like taste and smell make EVOO certification a rigorous process, contributing to the product's higher price.
So, what about cooking and eating? Ideally, it is nice to keep a bottle of both plain olive oil and high-quality extra-virgin oil for plenty of healthy fats. Refined olive oil is good for general cooking and sautéing, while extra-virgin is ideal for dips, dressings, and uncooked applications such as a finishing touch for plated food.
It should come as no surprise that we have a lot of olive oil producers in our Producers Market network. In addition to the countries listed above, we also have producers in Croatia, Turkey, Israel, Lebanon, and even Uruguay.
Let's check out what some of our producers have to offer.
A World-Class Product: Oilala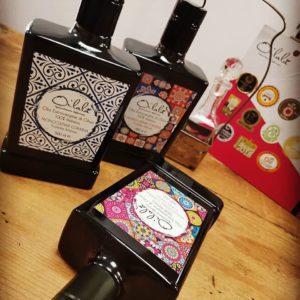 If you are looking for high quality, fresh taste, high nutritional value, and a fun name to say, check out Oilala. These award-winning oils are rich, fruity and spicy, with a hint of bitterness that denotes a high concentration of polyphenols. Oilala is ranked among the top 50 olive oil producers in the world, and they often work with Michelin chefs. The company also values aesthetics, using the work of innovative artists and designers to create beautifully-designed products. Their oils are a complete sensory experience.
Extra-virgin & Infused with History: O'liv
For history, ancestral knowledge, blending of modern and ancient practices, and connection to the land, try O'liv, a company based in Tunisia. They view their 10-hectare property as their cradle of inspiration and work hard to keep their process simple, holistic, and natural. O'liv focuses on producing their oil as quickly as possible, right as the olives are harvested, and blending modern and traditional practices.
Sustainable & Organic Practices
Poggiagliomi's clear green oils contain plenty of chlorophyll and antioxidants. They produce their well-loved oils from certified organic olives that they grow, pick, and press locally. They have planted their trees farther apart to decrease the need for fertilization. Poggiagliomi also avoids sprays and they pick the fruits early—all in the name of sustainability.
Oleamea, from Turkey, is another company with award-winning organic olive oils. Their farms have been in their family for generations. They control all aspects of the process, from cultivation to milling, storage, packaging, and distribution. In addition to providing fresh, antioxidant-rich oils for consumers, Oleamea also offers support services to farmers in their area. The Cine Development Foundation provides consulting and training to around 800 farmers in 79 different villages. Their seminars educate other farmers on organic techniques. They provide olive oil tasting to broaden knowledge on high-quality EVOO.
If you are looking to build peace and support gender equality with your purchase, look to Sindyanna of Galilee. This brand is a nonprofit connecting Arab and Jewish people in Israel. The women-led company sells Arab producers' olive oil and other premium products in the international marketplace according to fair-trade principles. They then channel all of the profits back into Arab women's education.
There are so many great options to choose from. Just pick your mission, your taste, and your region. Or try them all!
---
Have a look through all the olive oil producers in our network. Then let us know what you think! We want to hear about all your favorites!