Sprouted Oats Chocolate Cookies (Plant-based Recipe)
This crispy and chocolaty treat pulls inspiration from To Your Health & Co sprouted oats, grains, and flours.
Sprouted Oats Cookies
The Producers Stories team is happy to share recipes with our community. Farm-to-table ingredients and flavors shine with recipes, product spotlights, and blogs that highlight our farmers' work.
Because mini chocolate chips are not enough, this time we made sprouted cookies with chocolate chunks! This crispy and chocolaty treat pulls inspiration from To Your Health & Co sprouted grains and flour. Peggy, To Your Health founder, told us her story, which made us love sprouted grains even more.
Among the many benefits of sprouted flour, the germination process of sprouting causes the endosperm, phytates and starches to begin to break down, meaning we can absorb more nutrients and digest the sprouted grains more easily.
Plus, these sprouted oats chocolate cookies contain no animal products or byproducts (they are plant-based!) and no sugar or sweeteners. We know you'll love them as much as we do.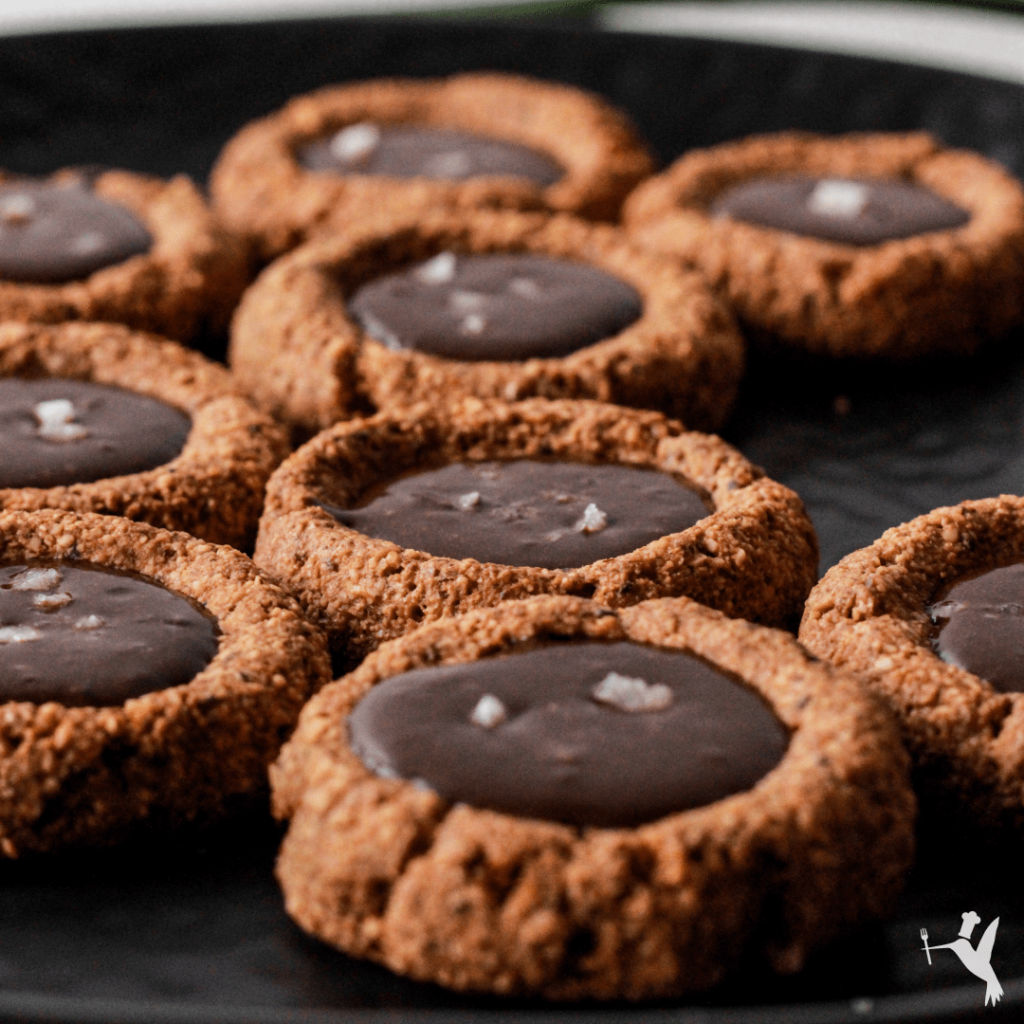 Sprouted Oats Chocolate Cookies Recipe
Ingredients:
1 cup almond flour
1 Tbsp chia seed meal
1 tsp baking powder
1/4 tsp baking soda
1 medium banana, mashed
2 Tbsp water
1/4 tsp salt
Optional:
1 Tbsp orange zest
1/4 tsp almond extract
Chocolate filling:
1 cup chocolate chunks
2 Tbsp plant-based milk
Notes:
You can substitute the chocolate chunks for your favorite jelly or seed/nut butter to fill the cookies.
Preparation:
Preheat oven to 350ºF/180ºC and line a baking sheet with parchment paper.
Mix all dry ingredients in a bowl, and mix the banana and water in another one. Then mix both together.
Knead with your hands until well combined. If the mixture is too dry, add a tablespoon of water at a time, or a tablespoon of flour of your choice if it is too wet.
Dampen your hands and make little balls with the dough, placing them on the baking sheet.
Using your thumb, knuckle, or the end of a wooden spoon, make an indentation in the center of each cookie (this is where we'll put the filling).
Bake cookies for 50 minutes or until golden brown, and let them chill at room temperature.
Melt the chocolate and plant-based milk in a water bath, and then pour the melted chocolate into the indentations.
Let cool, and enjoy!
For long-lasting crunchiness, keep cookies in an airtight container in the fridge.
---
Be sure to let us know in the comments how you like these sprouted oats chocolate cookies. If you want more recipes like this, click the link below (and follow @saturnoculinario on Instagram):