Spicy Massaged Kale Salad (Raw Vegan Recipe)
What in the world is massaged kale? Yes, you actually massage it. We do this because it makes the kale way easier to chew and digest, and much tastier.
A Spicy and Flavourful Salad With Fruit and Mint!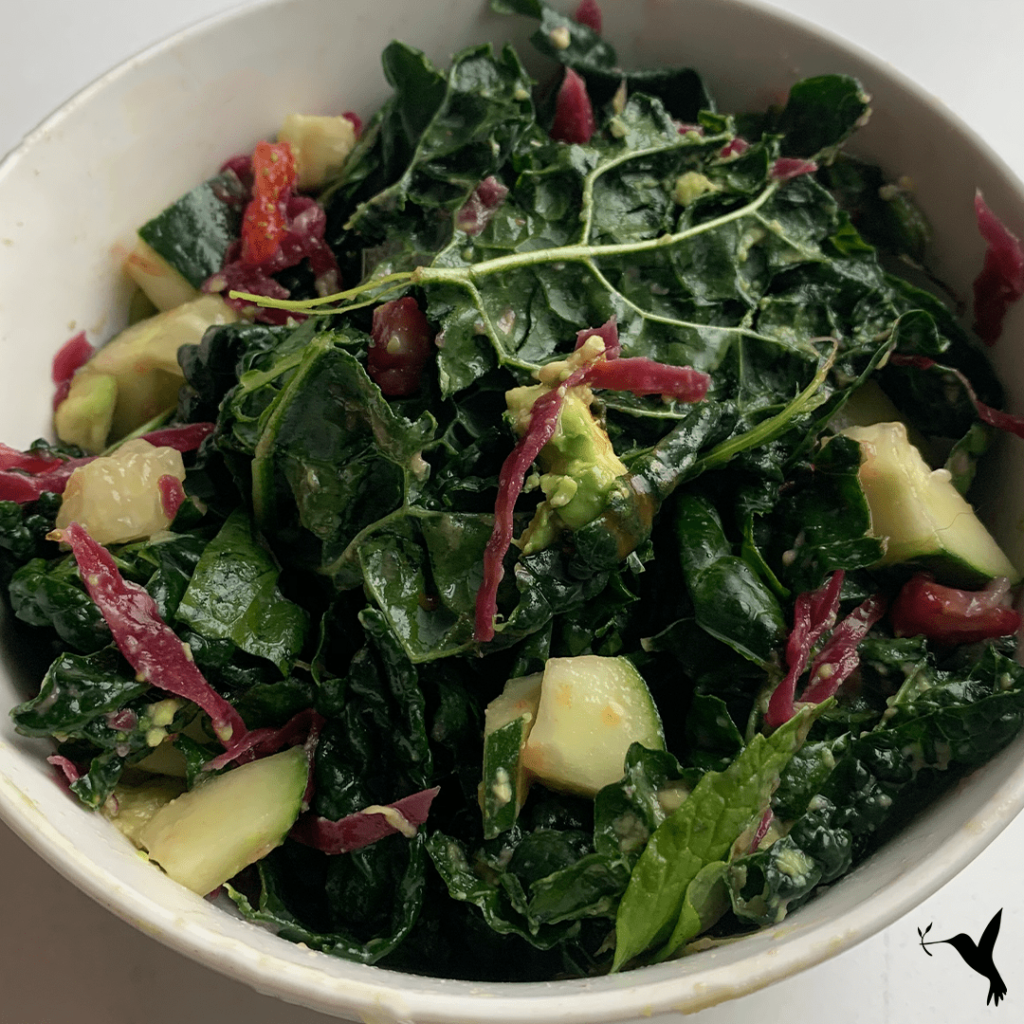 The team behind Producers Stories is crazy about food—especially food with a story to tell. We're passionate about bringing farm-to-table flavors into your home with recipes, product spotlights, and blogs highlighting our farmers' voices.
The first time I tried a kale salad, it was massaged and I had no idea. After that, I would try to make kale salad at home, but it was always too bitter and hard to chew. I didn't realize that the secret to good kale salad is massaging it.
Massaging kale breaks down enzymes in the leaves, which makes it so much easier on our jaws, not to mention the rest of our body. It may sound fancy, but it literally just means you massage the kale with your hands.
Some people use oil, but this recipe is oil free. You really just need a good pair of hands to make it work, and with the avocado and lemon massaging the kale is easy. My trick for this recipe is, instead of massaging the kale before adding the rest of the ingredients, to add all the ingredients and then massage the kale.
Not only is this recipe simple and tasty, it is also incredibly nutritious and alkalizing for the body. There is tanginess from the sauerkraut and lemon, crunchiness from the kale and cucumber, refreshing flavor from the mint, fullness from the avocado, a sweet punch from the strawberries, and a spicy kick from Uncle Sky's Hot Sauce.
Uncle Sky's Hot Sauce is one of my favorite additions to any recipe, since I love spicy foods. This hot sauce is not only spicy, but so flavorful I would actually drink it if there were not consequences to consuming too much spice.
Note that the salad looks way larger before you massage it, since massaging the kale leaves will compress them to almost half their original size.
Spicy Massaged Kale Salad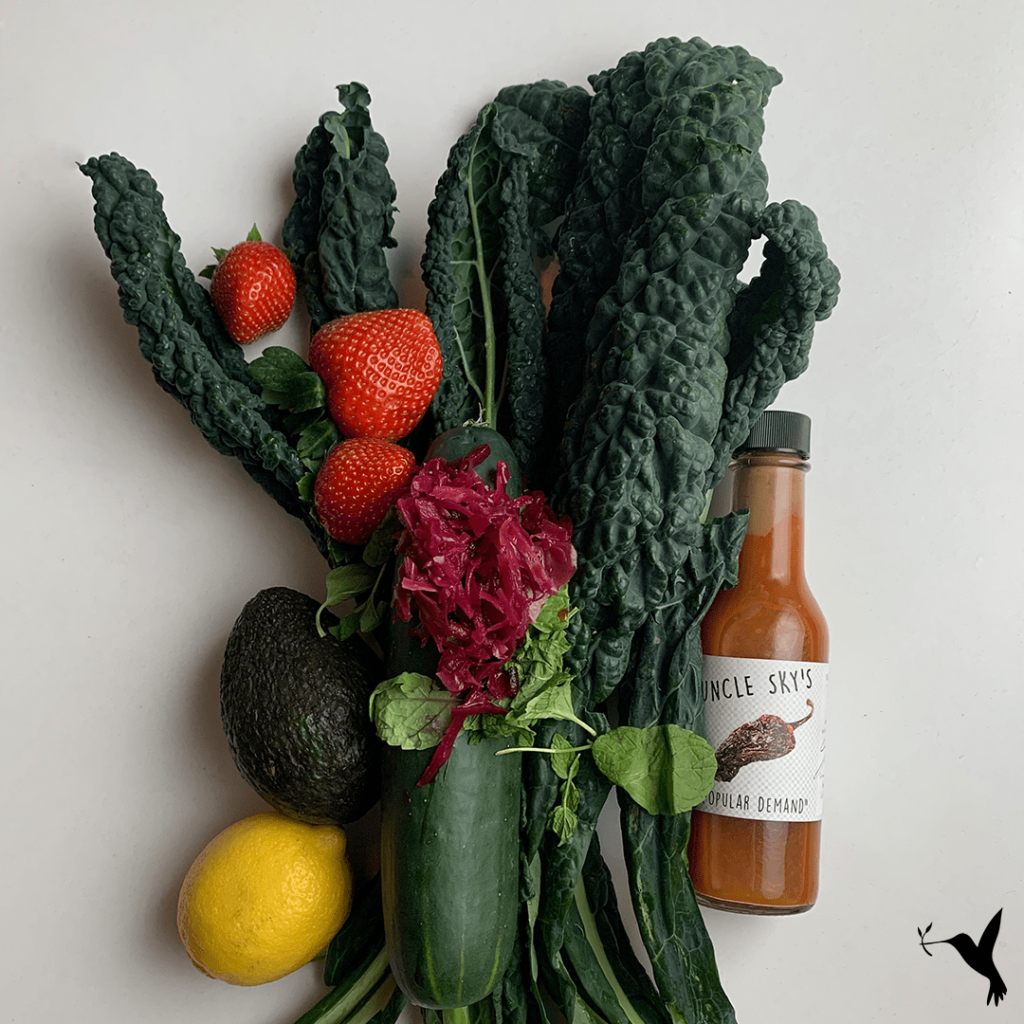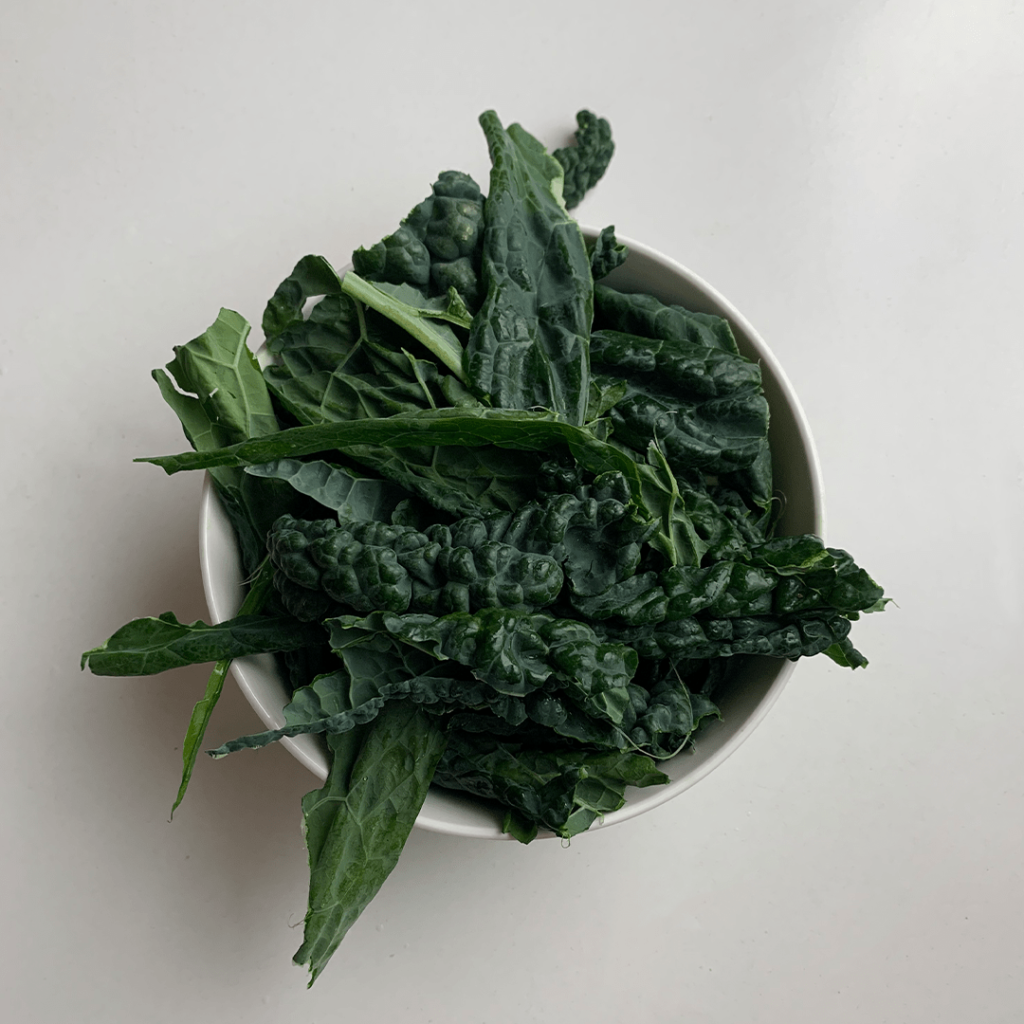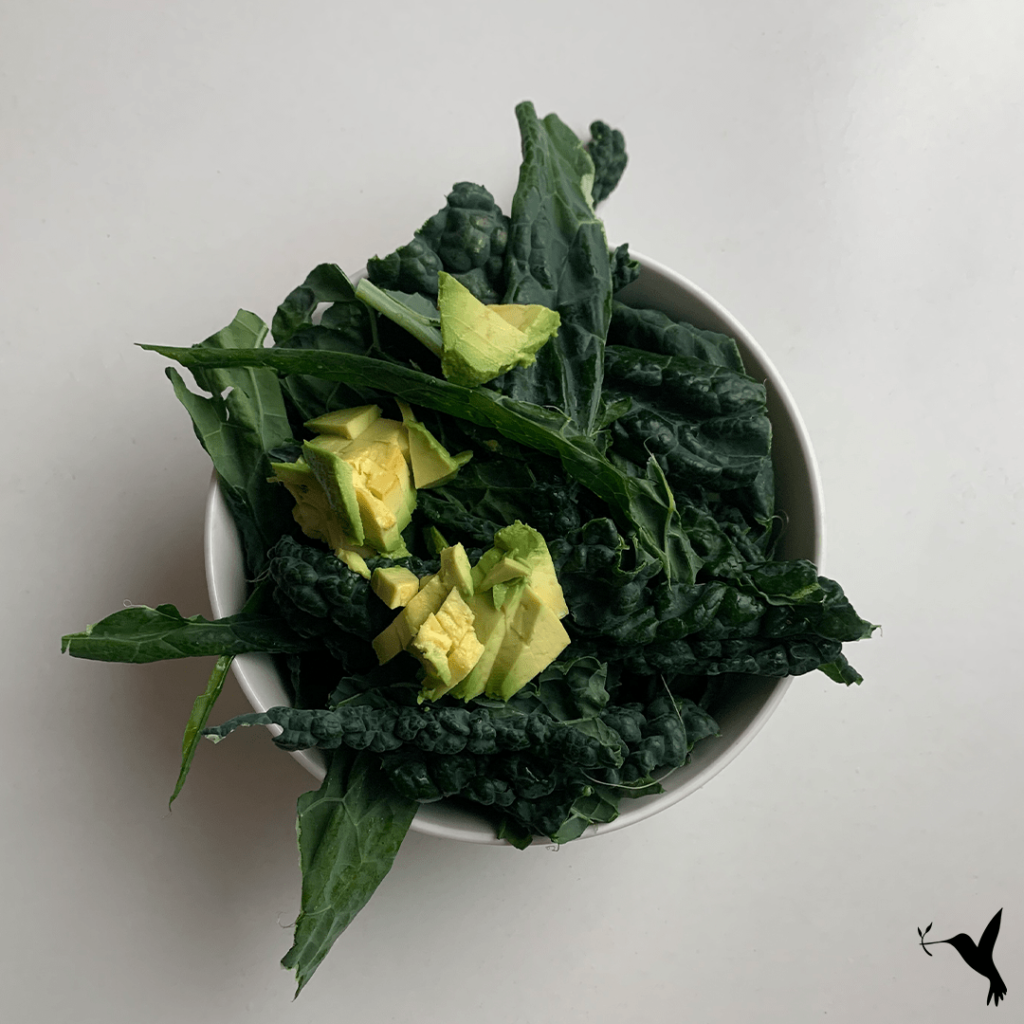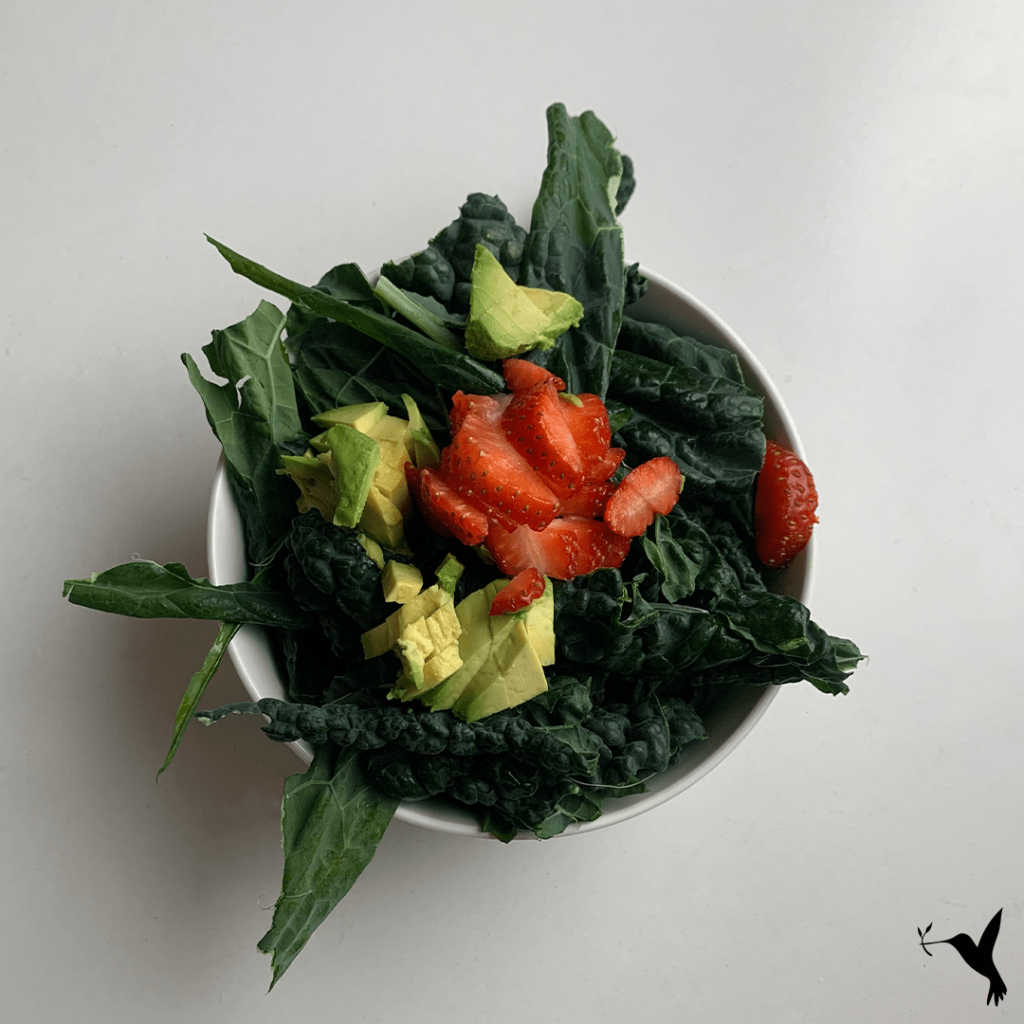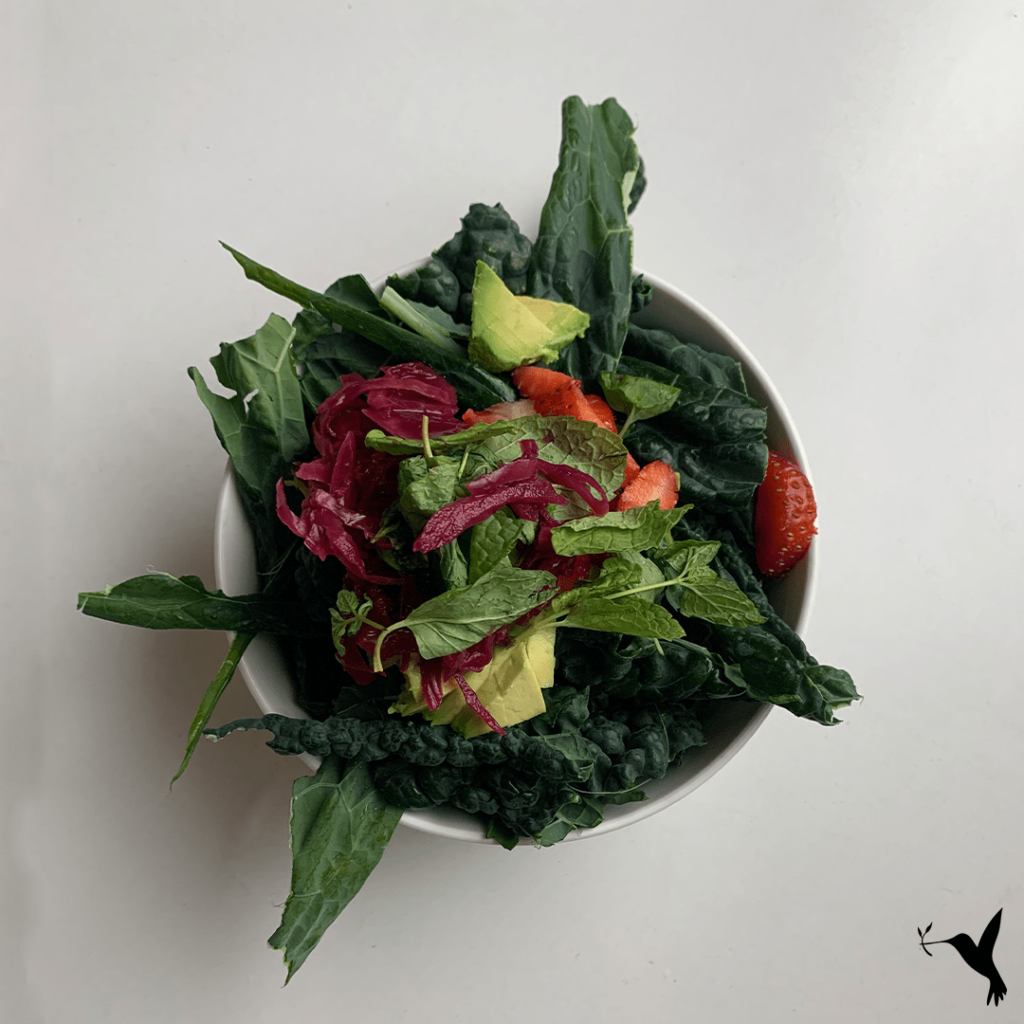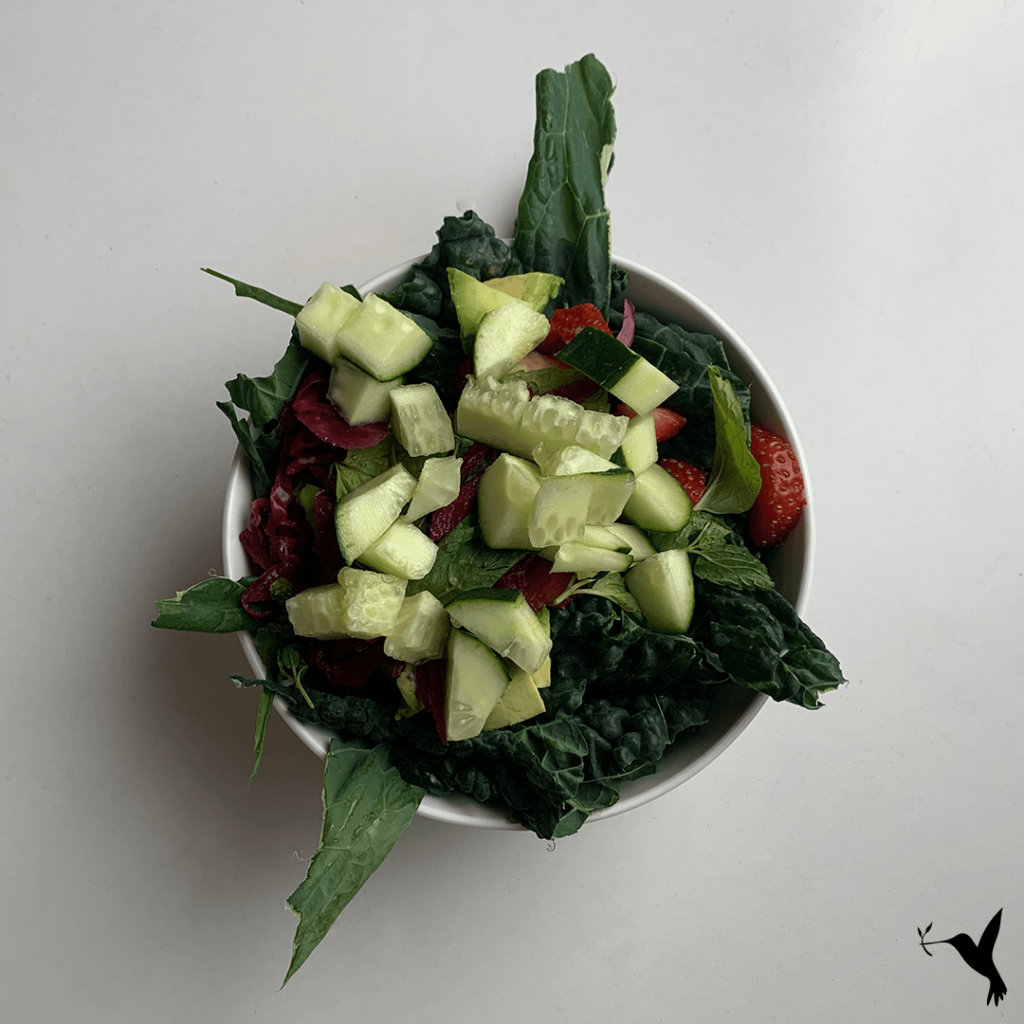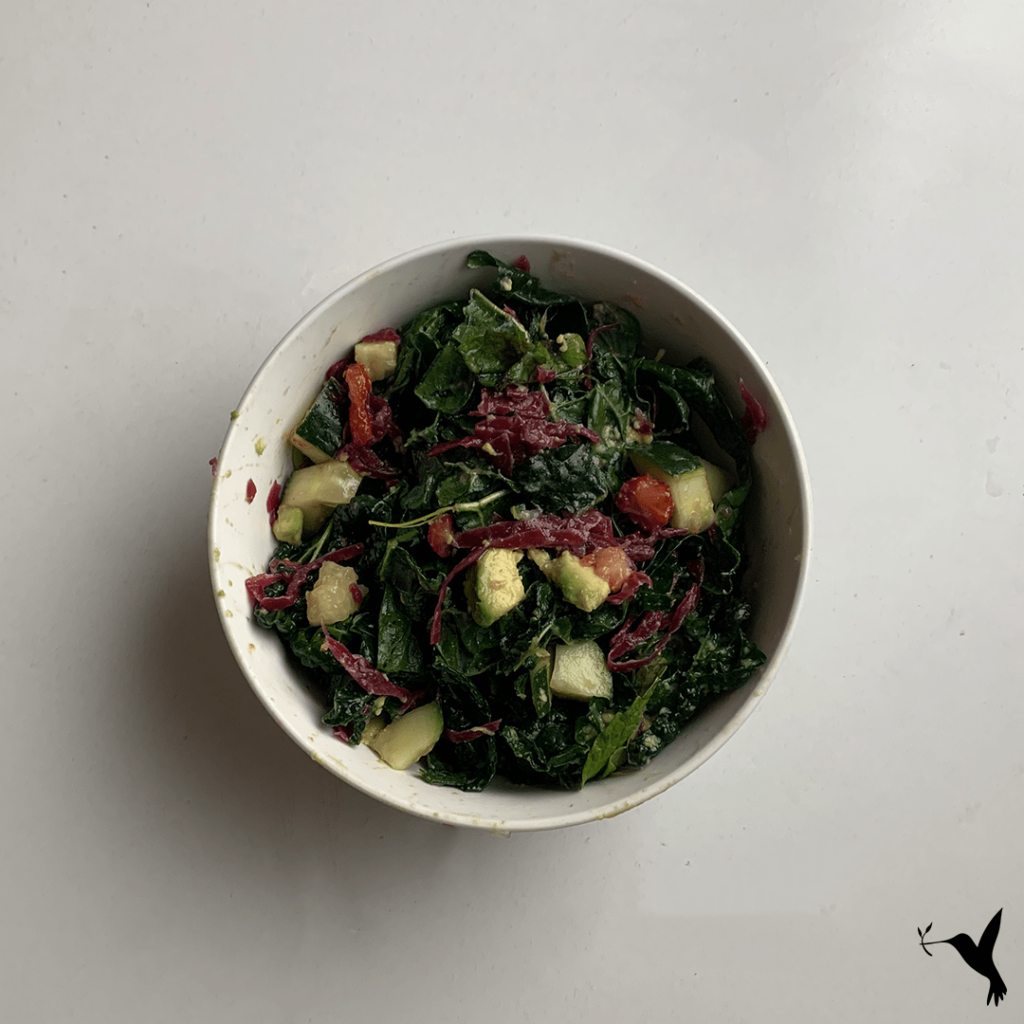 Ingredients:
1-3 bunches of kale (depends on how big you like your salad)

1+ avocado

3+ strawberries

Juice of 1+ lemon

1 handful sauerkraut

1 handful mint

1 cucumber

10 drops of Uncle Sky's Hot Sauce (if you don't like spice, skip this one)
Preparation:
Remove stems from kale.

Chop all the fruits (avocado, strawberries, and cucumber).

Add all the ingredients into a bowl, and squeeze lemon on it (sans the hot sauce, I save this for the end)

Massage the kale like you would dough or a human back. This can take anywhere from 30 seconds to 5 minutes. You will feel it getting softer and compressing.

Add Uncle Sky's hot sauce.

Enjoy this spicy kale salad!
Notes:
You can modify this in any way, add as much or as little of the ingredients as you'd like.

You don't have to massage the kale with all the ingredients at once, I just find this packs the most flavor into the salad and evenly distributes all the ingredients.

If you choose to massage the kale with less ingredients, I would suggest just using the avocado and lemon to massage, since these help break down the kale similar to the way that people use oil for this step.
---
Check out all our recipes on Producers Stories: