Producer Spotlight: Rich Nuts
A California firefighter is reshaping the way people snack, providing nutritious, easily digestible, and flavorful sprouted nuts as an alternative to snacks currently on the market.
The Journey to Healthy Nuts that Tastes Great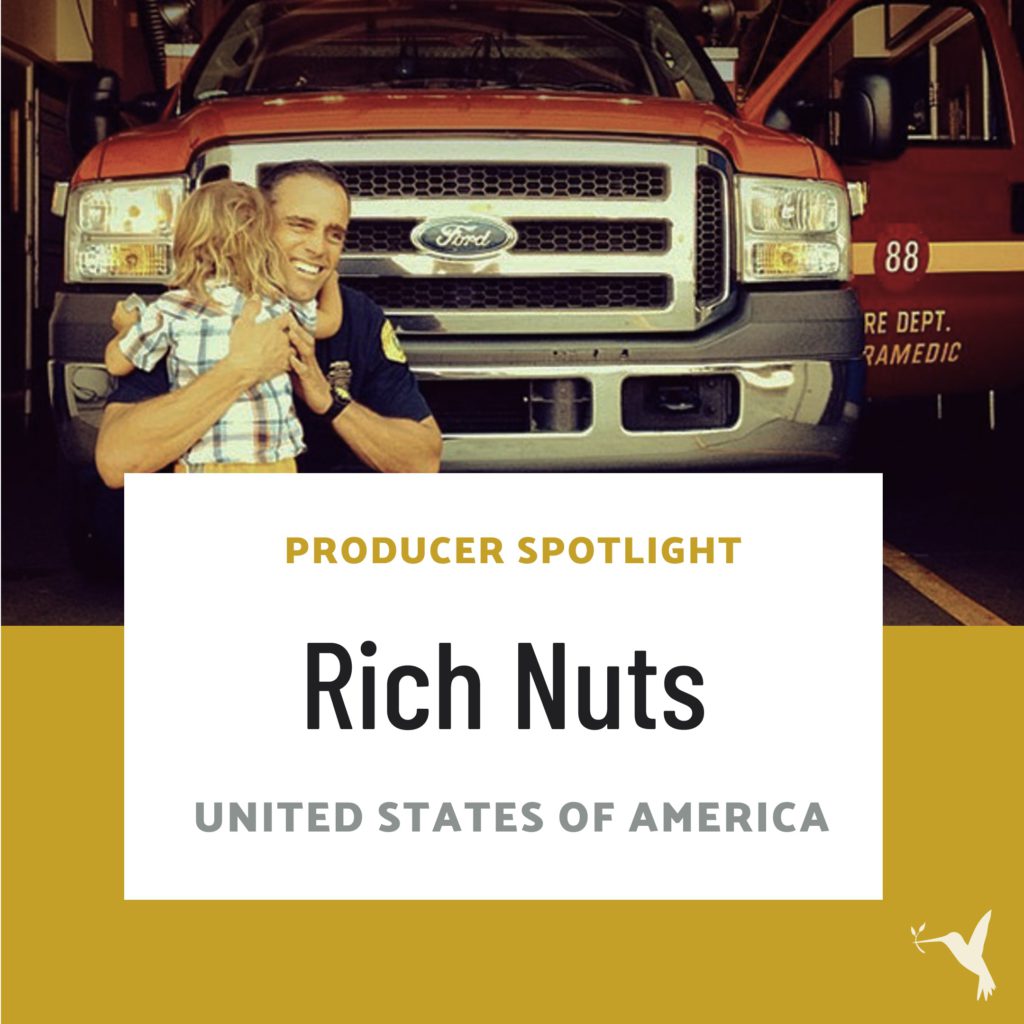 Rich Pauwels: professional firefighter to… sprouted gourmet nut producer?
He didn't see it coming either.
For most of his life, Rich Pauwel has been drawn to activities that involve strength and endurance. When he was a kid, it was wrestling and football. As a young adult, he moved on to surfing. Graduating from college inspired Rich to shift his love for endurance and adventure sports to a career that would amplify his passion while also serving his community.
Rich became a firefighter. And for 20 years he never looked back.
As a firefighter and licensed paramedic in Southern California during some of the worst wildfires in history, Rich often worked long hours with his crew to help stop explosive flames from engulfing the nature he loved.
Long, arduous shifts meant Rich and his crew frequently went without meals. For years, cheap snacks and sugary processed foods stocked the firehouse and trucks for hungry firefighters.
Hard Labor Requires Wholesome & Clean Nutrition
It was while fighting one of the state's worst wildfire outbreaks in history that Rich began to realize that these snacks were not a sustainable diet given the amount of energy he and his team needed to fight fires that engulfed thousands of acres of steep canyons and rugged mountains.
In turn, Rich attempted to fill their pockets (and stomachs) with protein bars, trail mix, and nuts. It made sense, he figured. Nuts are notorious superfoods, and humans around the globe use them to boost energy.
Unfortunately, after a few days of supplementing with nuts, he and others in his crew noticed an opposite effect occurring. The nuts left them feeling bloated, more tired, and with a notably unhappy digestive tract.
After researching the issue, Rich discovered that when not sprouted, nuts can cause the same digestive issues and side effects that he and some of his crew experienced.
Dedicated to providing healthy snacks for his team, Rich experimented and formulated his own special process for sprouting and dehydrating nuts that brought out the most nutritious benefits while also creating a delicious crunch. As soon as he began to eat his sprouted nuts, Rich noticed that his digestive issues cleared up almost immediately.
He knew he was onto something.
In an effort to provide energizing and tasty snacks (that his crew would actually eat), Rich seasoned the nuts with wild sage and rosemary from his backyard and brought them to the station. Much to his pleasure, his team swarmed the table, and the nuts vanished within minutes.
Rich knew then that he had a healthy, high-protein, nutrient-dense snack that tasted great and gave him the energy to do one of the world's toughest jobs. He continued to bring the nuts to work, often experimenting with different flavors, and the firefighters continued to devour them, even offering to pay him for bags to bring home to their family.
Eventually, his crew encouraged him: "When do you plan to make these nuts a business?" (And yes, there were always a few crass jokes.)
After 20 years of service, Rich retired from the fire department due to knee and back injuries. He knew it was time. Born in 2018, Rich Nuts became the culmination of one fireman's journey to creating nutrient-dense, organic, and easily-digestible snacks in the form of sprouted nuts.
Why Sprouted Nuts?
Nuts are the dormant seeds of a plant. They have a protective shield that helps them survive in nature. When soaked in water for a few days, the seed will begin to germinate or sprout. As they sprout, the natural barrier breaks down in an attempt to grow a new plant. This causes the nut to unlock the nutrition it would use to grow into a plant.
Sprouting reduces lectins and phytic acids that are naturally present in nuts. This means they are easier to digest and better for your body to absorb. Sprouting also unlocks numerous biomechanical processes, which in turn produce essential vitamins, minerals, and antioxidants. For example, this process produces the enzyme phytase, which makes the nuts more bioavailable, or easier for the body to digest and absorb the vitamins and minerals.
To put it in layman's terms: sprouting mimics nature's process of bringing nuts to life. It makes them easier to digest, nutrient-dense and bioavailable. They are full of good fats and protein and are crunchy and delicious.
Rich Nuts: The Company Is Born
Launched to market in 2018, Rich Nuts has a mission to nourish the planet as it nourishes us. How? By creating nutritious, sustainable, regenerative, and delicious foods from sprouted nuts. Rich Nuts is mindful of impact. They take close care in how they produce, package and ship, to how every person along the supply chain is treated. The goal is a great-tasting, organic product that is also a benefit at every step, from the sprouting process to the consumer.
Every batch of Rich Nuts is dehydrated right before it goes into a full sprout in an effort to retain its vital nutrients and active enzymes. This also gives them an exceptional crunch. There are a variety of unique flavors, from Cinnamon Walnut Crunch to Crunchy Curry Cashews and Brilliant Balsamic Walnuts. Rich Nuts has a gourmet flavor—and nut—for everyone.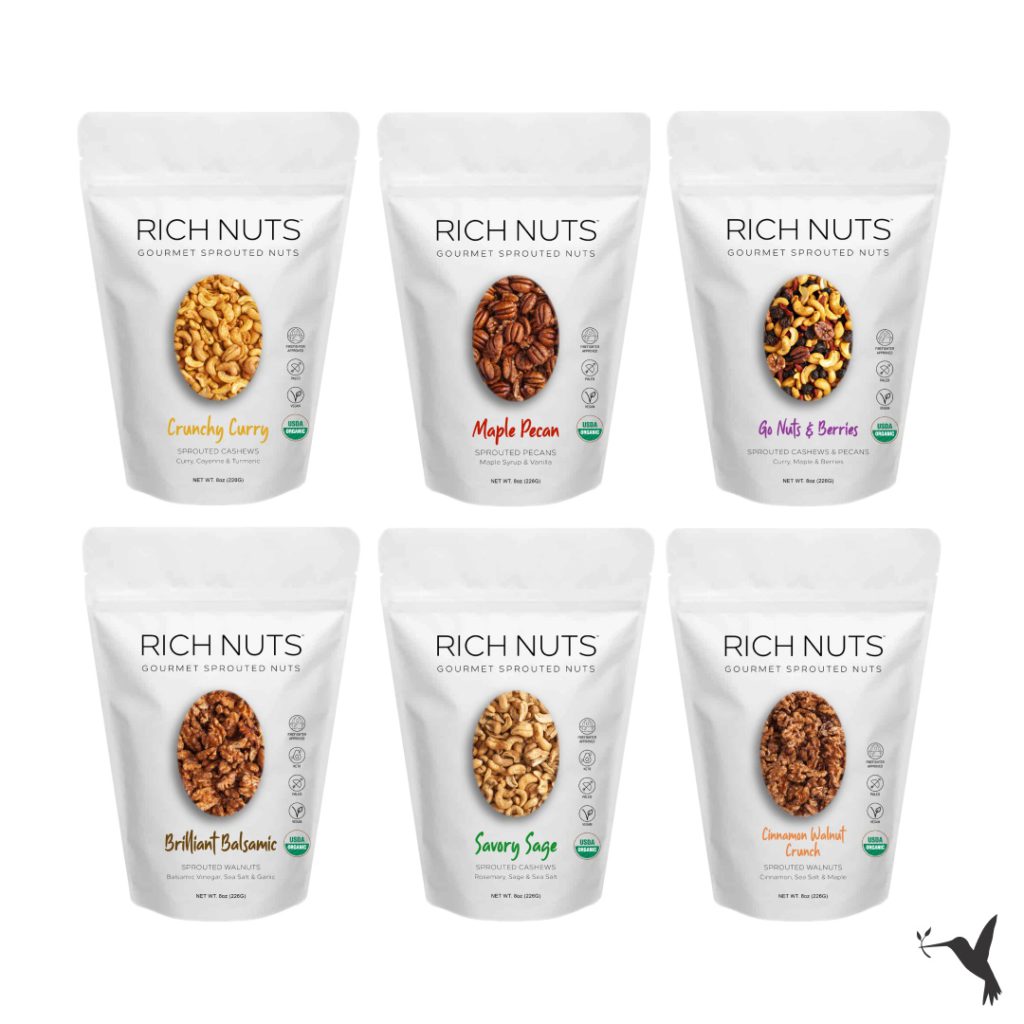 Today, Rich Nuts sells in multiple states. Plum Market, Sunlife, and Erewhon Market are some of the retailers. You can also purchase Rich Nuts online. Or visit Rich Nuts on Instagram and Facebook. For more information, visit their website or their Producer Profile on our platform.