Raw Vegan Spicy Pad Thai Recipe
Pull out your spiralizer, grab some cucumbers and Lavi's spicy peanut butter, and get ready for a unique pad thai experience.
A Tasty Pad Thai with a Haitian Kick!
The team behind Producers Stories is crazy about food—especially food with a story to tell. We're passionate about bringing farm-to-table flavors into your home with recipes, product spotlights, and blogs highlighting our farmers' voices.
Lavi's spicy peanut butter made in Haiti has inspired all of us at Producers Market. Looking for new and delicious peanut butter-based recipes, I thought, what could be better than a raw, vegan pad thai?
When I think of spicy flavors mixed with peanuts, the first thing that comes to mind is Thai food. I really appreciate that Thai food offers so many different vegan options. I love spicy, and I love cucumber noodles, so I figured, why not turn a traditional dish into something raw?
I am especially excited to be using Lavi's spicy peanut butter. Not only is it tasty and unique, but it is made with aflatoxin-free peanuts produced by smallholder farmers in Haiti. It's so important to know the story behind our products, and the values of the companies making them.
Pad Thai was created in the 1930s by the prime minister of Thailand. The dish was created to help build a national identity. It was originally made with Chinese rice noodles, and the only actual Thai ingredient in it was the dried chillies. Even in Thailand, they call it a Chinese noodle dish. It's known as a "fast food."
This recipe may even be faster to prepare since there is no cooking required.
I used cucumber noodles because they are my favorite type of noodles, and so easy to make. You can substitute with zucchini noodles if you prefer that, but I love the flavor and hydration from the cucumbers. The Lavi spicy peanut butter is so tasty; the medium spicy peanut butter is perfect, but if you like it really intense, get their hot version, or even add some of Uncle Sky's hot sauce on top of it. The lemon and lime in this add a nice tangy balance to the dish.
Why does lime taste so good with peanuts? Some answers we may never know, but if you love Pad Thai, I know for certain you will enjoy this spin on the classic dish.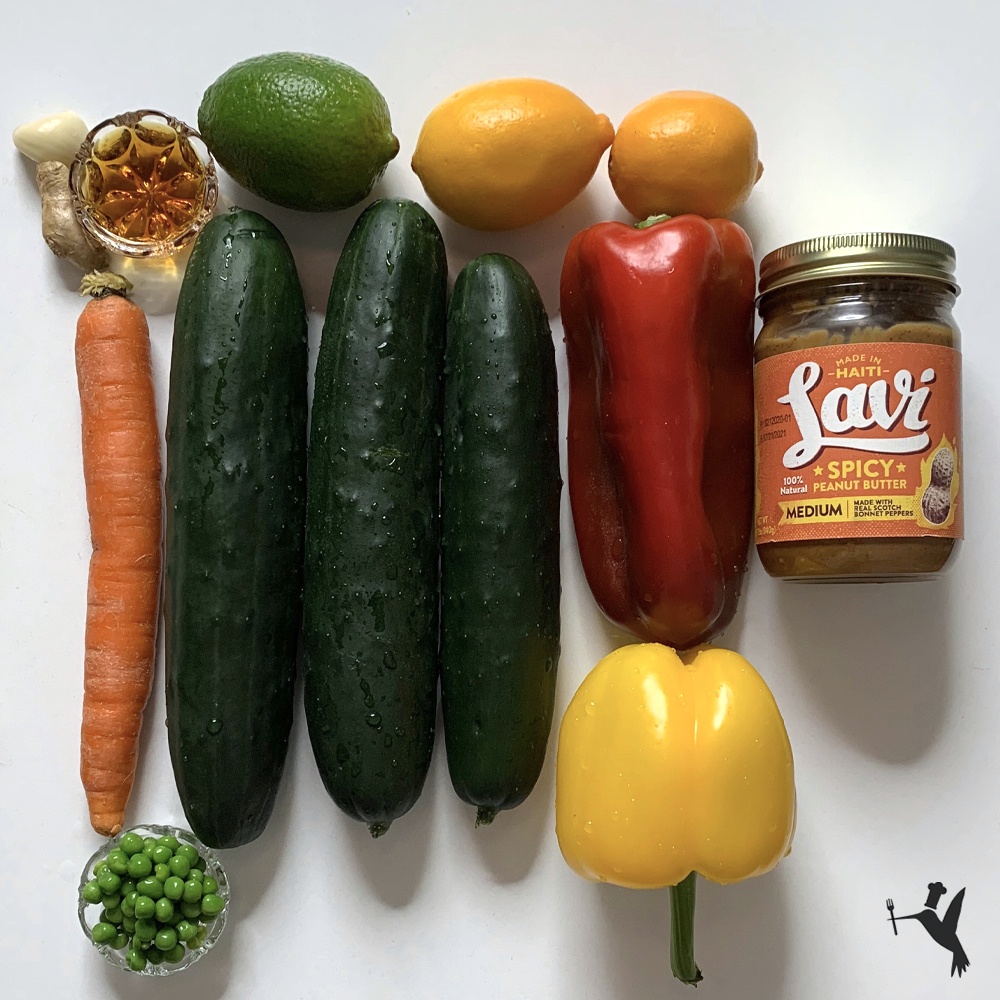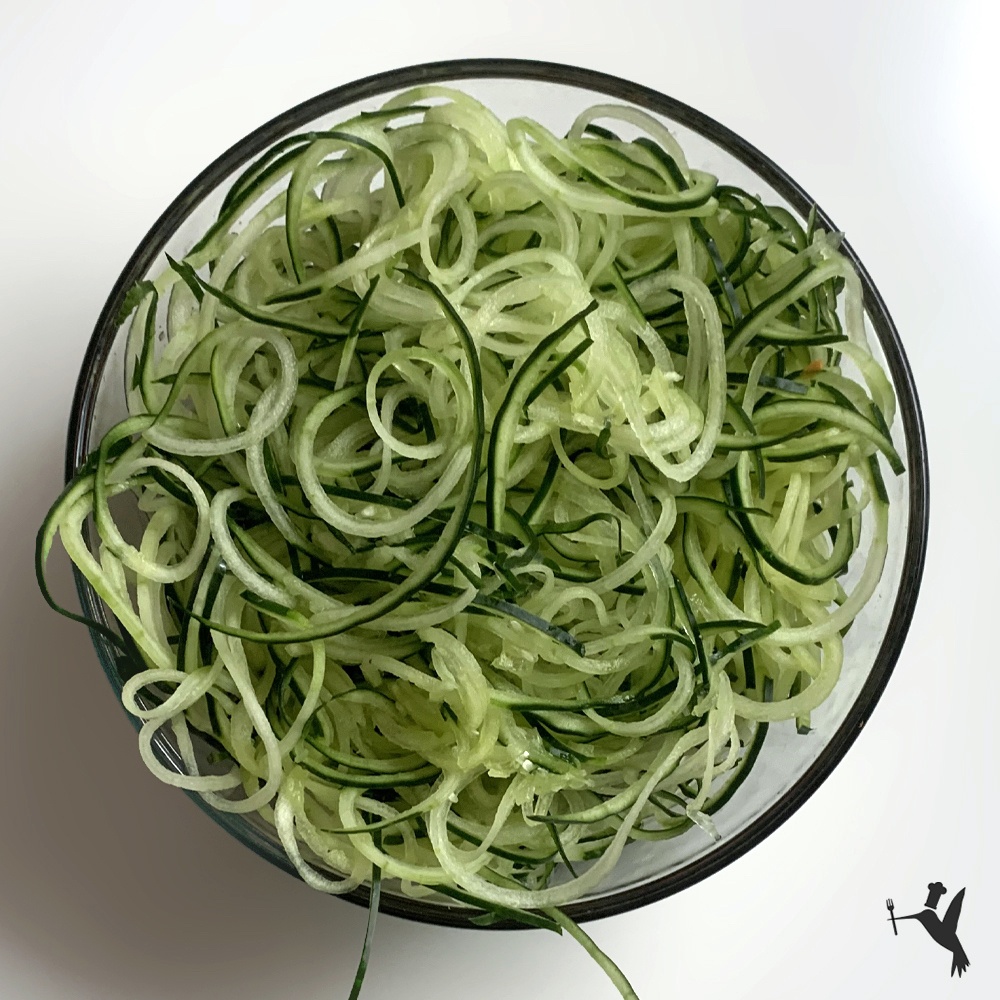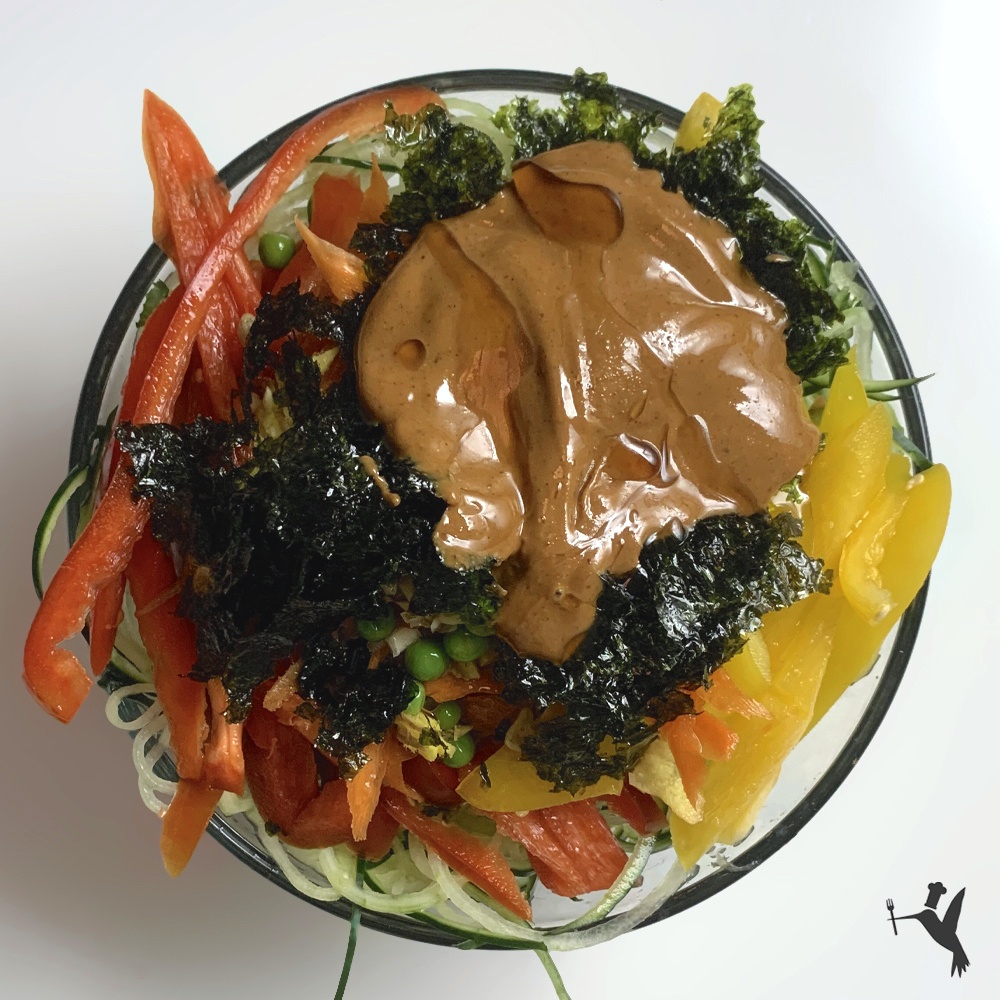 Ingredients:
2-5 organic cucumbers

1 organic carrot

2 organic lemons

1-3 organic limes

1 clove organic garlic

1 thumb-sized piece of organic ginger

2 sheets of organic seaweed

1 organic red bell pepper

1 organic yellow bell pepper

3 Tbsp organic peas

3 Tbsp

Sawyer's organic maple syrup

3-5 Tbsp

Lavi's Spicy Peanut Butter
Preparation
:
Spiralize cucumber and carrot (you can just grate the carrot if it's too small for your spiralizer).

Finely chop garlic and ginger.

Juice lemons and limes (leave some slices of lime for a garnish).

Thinly slice red and yellow bell peppers.

Rip up seaweed.

Get a large bowl and mix all the ingredients together.

Grab some chopsticks and enjoy!
NOTES:
If you added your own twist on this raw vegan pad thai recipe, let us know in the comments!
---
For more recipes, follow us on Instagram at @vegans & @healthy, or check out all our recipes on Producers Stories here: