Product Review: Synthesis Organics Herbal Rescue Gel
Synthesis Organics Aloe Herbal Get is a balance between nourishment and hydration. Something that always feels fresh and lightweight.
Lightweight Hydration for Hot & Humid Climates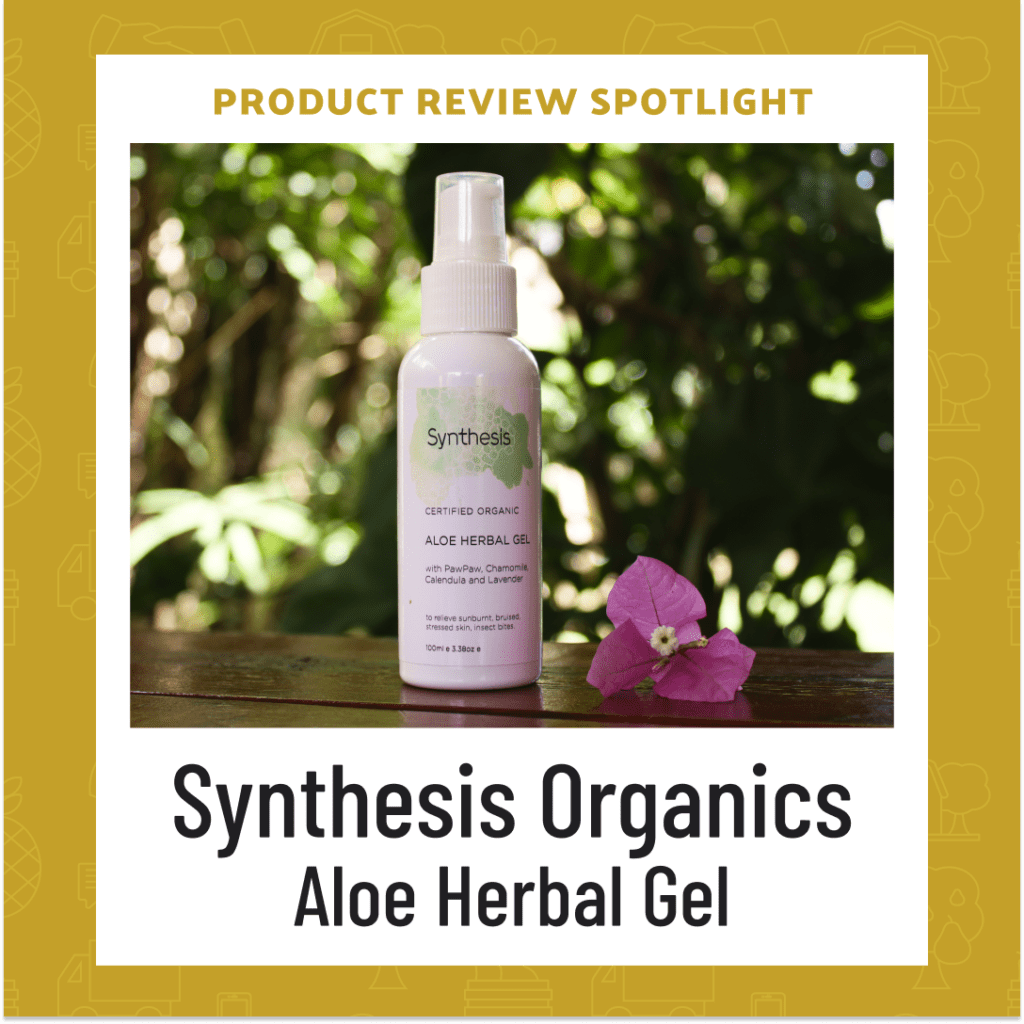 Synthesis Organics has gifted me fresh solace with their Herbal Rescue Gel. This is not the first time I've spoken about the trials of finding a moisturizer that is both effective and practical in the sweltering heat of tropical climates (I salute all of you in the equator belt). To all those in more temperate climates, imagine Florida—except much worse.
It's not all bad. Humidity might give hair a life of its own, but it also helps the body absorb more oxygen into the bloodstream, is a major ally to plant growers, and it supports a more graceful aging process.
So the tropical heat has its upsides. However, in addition to some (non-negotiable) sun protection, my combination skin—drier on cheeks and chin, oilier on T-Zone—still needs some hydration in the balmy weather. Nothing so rich it will feel like a fine layer of wax over my skin as the day goes by—but not so light I might as well just mist my face with some water.
I'm talking about a balance between nourishment and hydration. Something that always feels fresh and lightweight. Ideally, I want something with no fussy packaging, too, and easy to carry around for reapplication as needed.
Enter the Synthesis Organics Herbal Rescue Gel.
What Is It?
The Synthesis Organics website describes it as, "A soothing, cooling, hydrating gel to relieve sunburnt, bruised, stressed skin, insect bites and more. Essential for recovering from the Aussie summer sun and outdoor activities."
According to Synthesis Organics website, the herbal rescue gel is Australian certified organic, with 100% natural and vegan ingredients. It is ideal for tackling stressed or damaged skin, eczema, psoriasis, insect bites, bruises, and dehydrated skin.
The Synthesis Organics Herbal Rescue Gel Formula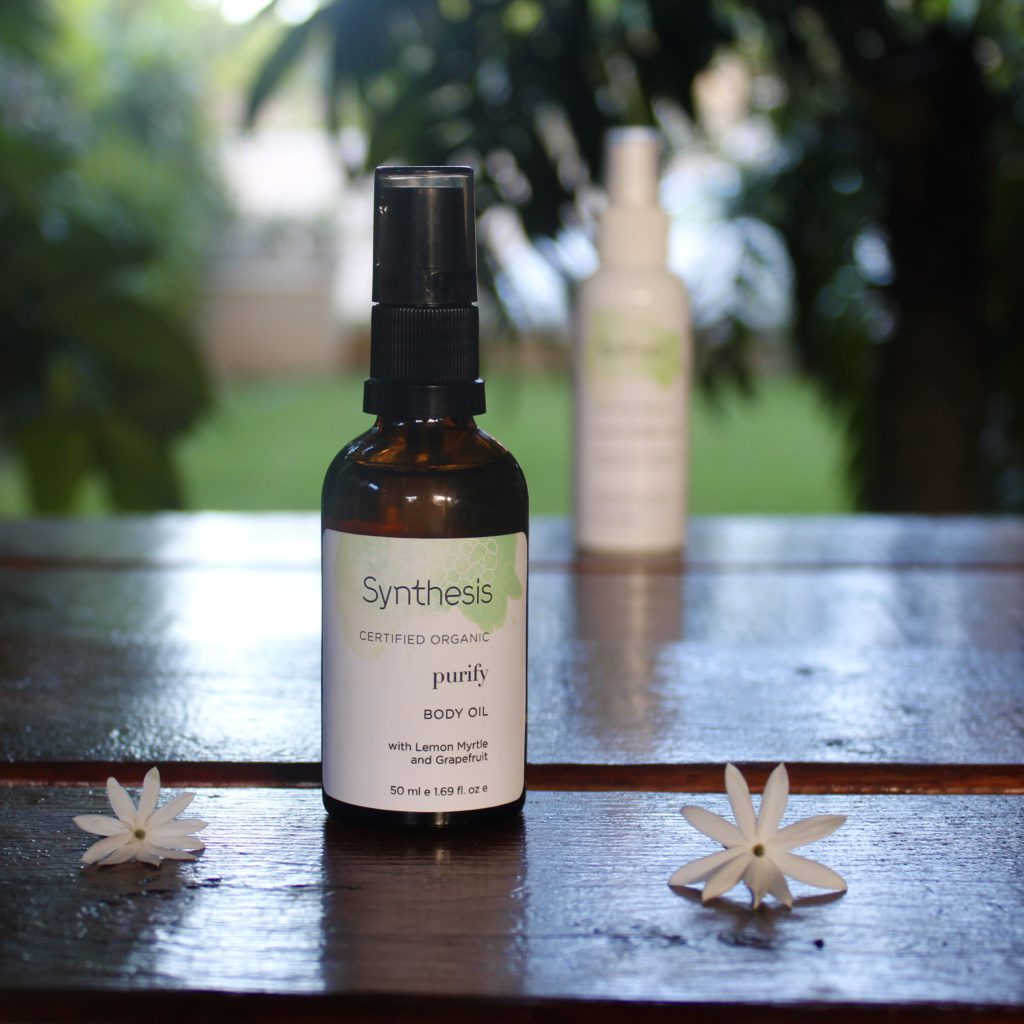 The key ingredients are:
Aloe Vera—cooling, hydrating, and regenerative. It contains over 200 bio-active agents that heal damaged skin.

Calendula—stimulates collagen production while its antibacterial, antioxidant and anti-inflammatory properties have a soothing and restorative effect.

Lavender—increases blood circulation, stimulates cell regeneration, and is exceptionally calming.

St. John's Wort Infused Oil—a potent wound-healing ingredient, it helps to soothe inflamed and irritated skin, burns, or nerve pain.

Chamomile Extract—soothing and calming for both the body and mind, with the help of the amino acid

Tryptophan

.
I was excited to see paw paw on the ingredient list. Paw paw contains anti-inflammatory and exfoliating enzymes—papain and chymopapain—that gently assist skin cell regeneration and resilience, while the aloe and chamomile hydrate and soothe.
I also appreciate the organic certification, vegan formulation, and cruelty-free ingredients. And while all of the ingredients in the herbal rescue gel certainly do wonders on irritable or compromised skin, this baby is really for everyone.
Thoughts Before Reviewing the Herbal Rescue Gel
I have three different aloe plants at home whose leaves I routinely slice off to eat or slather on my face. Just as a pick-me-up. I know my skin appreciates the aloe, so I expected this product to serve as a low-maintenance alternative to harvesting the gel from the plants in my kitchen.
I was in for a pleasant surprise.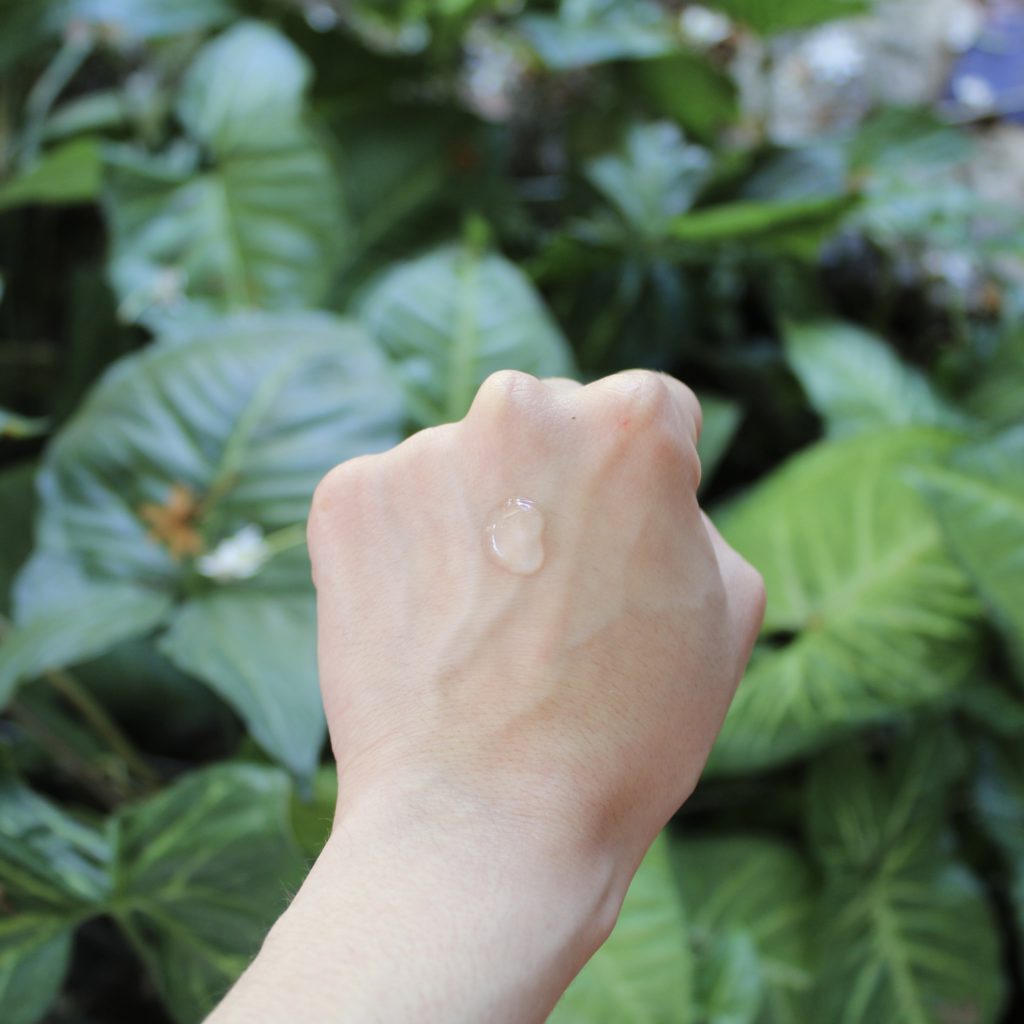 The Texture
The Synthesis Organics herbal rescue gel has a light, watery texture. It absorbs quickly into the skin and leaves it feeling soft and nourished.
The Lived Experience
Cooling and light, this runny gel feels like jelly when massaged into the skin. It glides and soaks in without leaving behind any residue—just a comfortably-hydrated, fresh face and neck.
The Scent
This gel has a mild, fresh, and subtle aloe scent with the barest hint of lavender that disappears as soon as the gel is massaged in.
You might also describe it as a natural, birch, or "green" scent.
Who Is Synthesis Organics Herbal Rescue Gel For?
Herbal rescue gel is for everyone, especially if you live in a hot and humid climate. If you have an oilier skin type, you will love this. The only people I could see giving it a pass are those with extremely dry skin—or those who live in extremely cold and dry climates.
The gel is certainly soothing. I haven't intentionally used it on any wounds, but it definitely doesn't cause irritation or stinging anywhere. I can also see how it would provide cooling relief for insect bites or flare ups. It feels good on perfectly hale skin, and I am confident it would work for everyone.
Even then, however, I think this gel would still be a great choice for treating irritated skin, abrasions, bug bites, and other wounds.
The Verdict
This product is soothing, healing, and calming. The texture gets an A+ from me, and it works especially well in a balmy weather.
I apply this in the morning and once or twice more during the day. At night, when I want something richer, I'll use Lhamour's Seabuckthorn Oil Body Butter in my face (yes, I'm serious, it's not heavy either).
Do I Recommend Synthesis Organics Herbal Rescue Gel?
Yes. Even if you have drier skin and it's too light to work as a proper moisturizer for you, this is still a great-quality herbal gel. You can also boost the hydration value by mixing it with a few drops of any of Synthesis Organics' many face and body oils (I went for the Purify Body Oil).
The gel comes in a pump, which I appreciate. It's easy to reapply or combine with other products and has officially joined ranks with my daily staples.
Radiance achieved. Touché, Synthesis.
---