Natural Skincare: Beauty You Can Eat
Natural skincare is easy since fruits and vegetables have multiple benefits depending on whether we ingest them or slather them on.
Natural Nutrition, Natural Skincare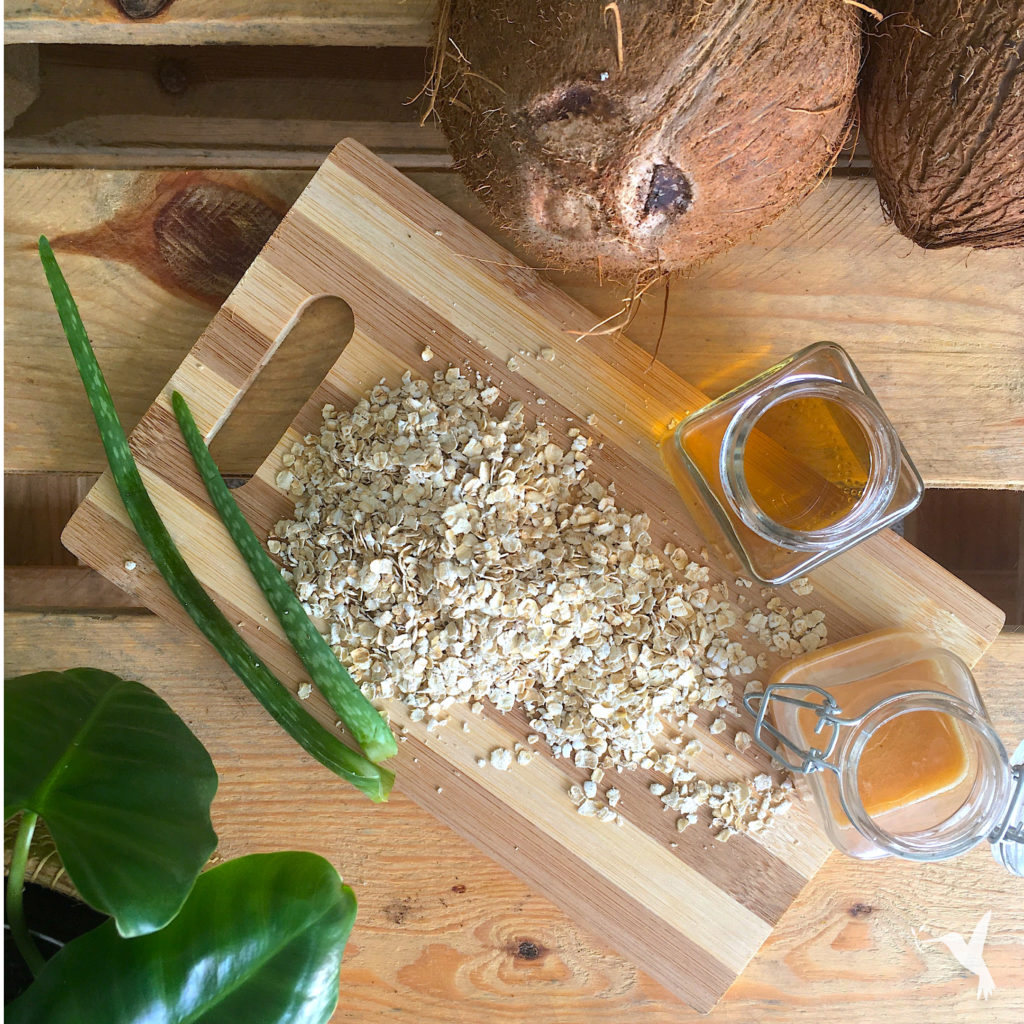 Personally, I've always enjoyed smearing my face and body with products that I also could eat. Natural skincare is easy when you already eat healthy. Nature is generous in that way! Fruits and vegetables have multiple benefits depending on whether we ingest them or slather them on.
A recent favorite is mixing olive oil and activated charcoal into a dark, oily mixture and massaging that all over my dry skin for a charcoal/olive oil cleanse. It's a messy process that's probably best left for inside the shower, but it's also deeply purifying and nourishing on the skin.
Another natural skincare trick I like is to snip a fat aloe leaf from my backyard. I slather three-fourths of it over my face and neck. Then I blend the remaining fourth into a cantaloupe, pineapple, and kale smoothie.
For Natural Skincare, Let Your Food Multitask For You
It's a fun and intuitive process for those with a taste (pun intended) for adventure and beauty!
The following list breaks down some of my favorite ingredients, as well as some reasons you might want to give them a shot.
It is extremely versatile in its benefits. It's loaded with good fats, and its oil works as a body and cuticle softener, makeup remover, scalp and sunburn relieving treatment, and many other convenient uses.
Coconut oil contains capric, caprylic, lauric, and linoleic acid, which are disinfectant, antimicrobial, and hydrating in effect. Aside from being great for the skin, coconut oil detangles and protects hair, and can nourish it back from a dry and brittle state, as well as promote hair growth.
Ingested, coconut treats candida, boosts the immune system, eases digestion, improves bone health, regulates blood sugar levels and cholesterol, and even contains medium-chain fatty acids (MFCA's) found in maternal milk!
Aloe Vera
Called the "Plant of Immortality" by Ancient Egyptians, this member of the cactus family secretes a clear gel famous for rapidly soothing, and healing burned or irritated skin. Ayurvedic medicine regards it as the healer of chronic skin problems such as dandruff, eczema, and psoriasis.
Plant hormones provide anti-inflammatory properties and promote cell growth. Aloe makes for a great natural moisturizer and aftershave lotion. It is packed with antioxidants like beta-carotene, vitamin C and E, which help with skin firmness and elasticity, while salicylic acid naturally exfoliates and clarifies.
On the nutritional side of things, Aloe is known for its benefits to the digestive system. It contains up to 75 different nutrients, vitamins, minerals, enzymes, sugars, phenolic compounds, amino acids, and more. Antifungal and antiseptic properties help fight dental diseases like gingivitis and periodontitis.
Honey
Honey is antibacterial, antiseptic, and anti-inflammatory for the skin. It has natural exfoliating enzymes that give the skin a dewy glow when massaged in or left on as a mask. Honey, especially raw or the manuka variety (honey made from the pollen of the manuka plant in New Zealand), is excellent to treat skin discoloration, wounds, burns, and other kinds of lesions.
Honey lowers bad LDL cholesterol and triglycerides while raising the good HDL numbers. It has antioxidant compounds that reduce blood pressure and improve heart health. It soothes and heals a sore throat, is full of phytonutrients, and contains sleep-regulating hormones.
Oats
They are bursting with antioxidants, are a natural cleansing and moisturizing agent, reduce skin inflammation, soothe irritation, and fight off damage caused by pollution, UV rays, and chemicals.
Oats are a natural skin softener and complexion brightener. The proteins found in them protect the skin's natural barrier, while its lubricating fats aid with UV protection.
Oatmeal relieves constipation, reduces blood pressure, and cuts the risk for heart disease by 22%. The beta-glucan in oats works wonders on our metabolism, enhances immunity, and relieves symptoms of menopause.
Apple Cider Vinegar
ACV contains Alpha Hydroxy Acids (AHA's) that smooth and exfoliate the skin. It also works as the perfect PH balanced toner if swept over the skin with a cotton round.
With its anti-inflammatory properties, it works great to heal bruises and to soothe bug bites. Its acids neutralize the itch and disinfect the lesion. Overall, it clarifies the skin, calms sunburns and irritation, and works as a natural, antifungal deodorant.
ACV also lowers sugar levels in the blood, helps reduce belly fat, and decreases insulin levels on people with type 2 diabetes.
The last time I was badly sunburnt I soothed my skin down with apple cider vinegar and honey. I love a good coconut oil hair mask, and will often use turmeric to treat any skin discoloration.
And these are only a handful of uses! From olive oil to avocados, to turmeric, to strawberries, there is no shortage of multifaceted power foods to enjoy.
---
Want to know more about different foods and their benefits? Follow us @nutrients on Instagram!