Producer Spotlight: Art Farm Panama
Lyn created ArtFarm as a space where anyone could come and stay for an in-farm experience. It is ideal for fellow artists and creatives looking for the perfect space for inspiration, or maybe a chef wanting to participate in an in-farm residency, cooking with the terrain's own ingredients.
Lyn Bishop, The Magic of Sortová & Quetzal Cacao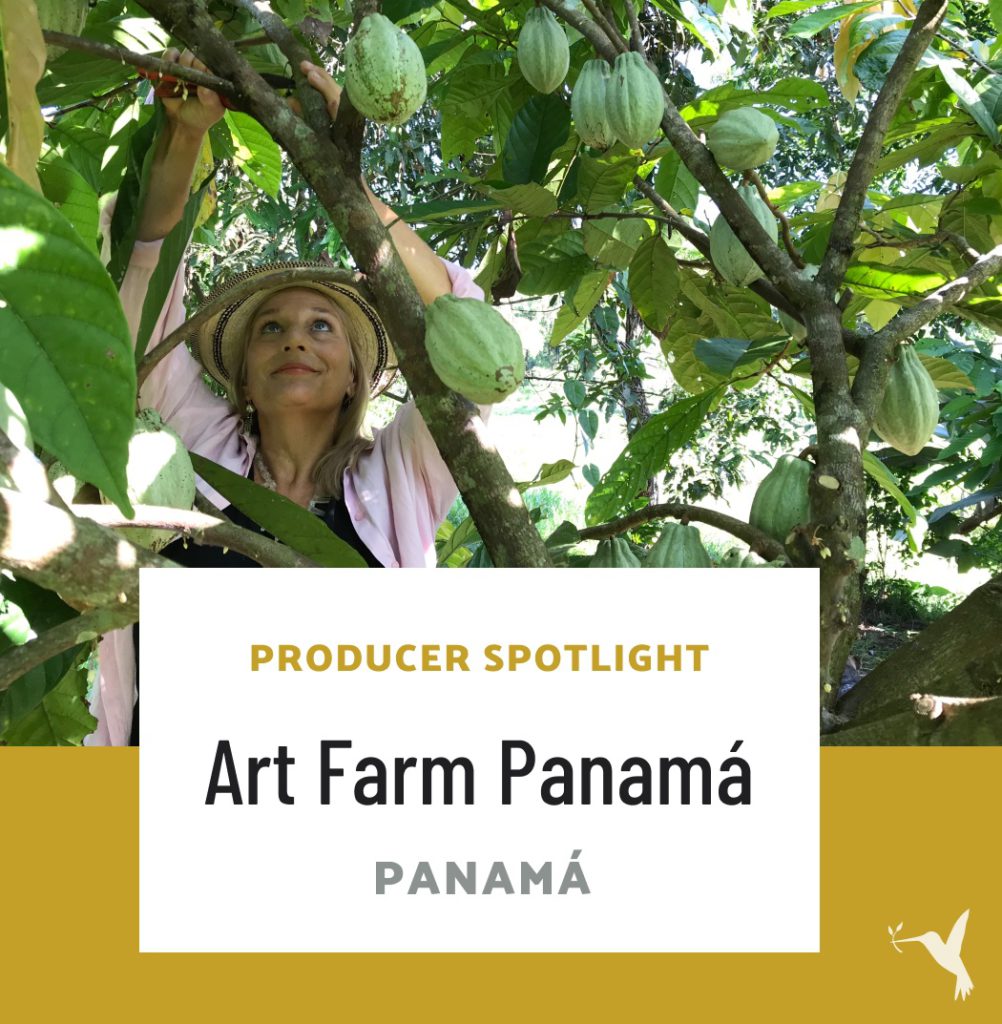 PANAMÁ
The trip to Chiriquí was smooth. Our team had left Panama City and stopped by the beach at Farallón to break up the eight hour ride. Once we made it past the Dry Arc, the country's dense, green forests painted our view throughout our ride to David—the capital of Chiriquí, and last pit stop before our destination.
We took a watermelon with us and picked up a few coconuts sold on the side of the road as we drove past the province's capital and to the district of Bugabá. Something shifted as we reached the village of Sortová. We had already left the big city a while ago and spent two days winding down at the beach, but our pace seemed to dramatically slow as we arrived at Lyn Bishop's ArtFarm. The dirt road curved with the land, cows and horses walked at leisure, live trees lined the fences. The air changed with the scenery, and our team along with it. Upon our arrival, Lyn herself greeted us along with Ovidio, farmhand and friend, on their way to visit her coconut trees. We left everything in the car and joined them on the mission.
Some kind of worm had recently killed one of the trees, and Lyn was determined not to lose another one. For that, they had prepared a strong concoction consisting of mostly garlic and hot peppers to spray on affected areas of the survivor tree. Ovidio made his way up the palm tree with all the coordination of a squirrel, while Lyn helped him lift the spray tank filled with their homemade pesticide.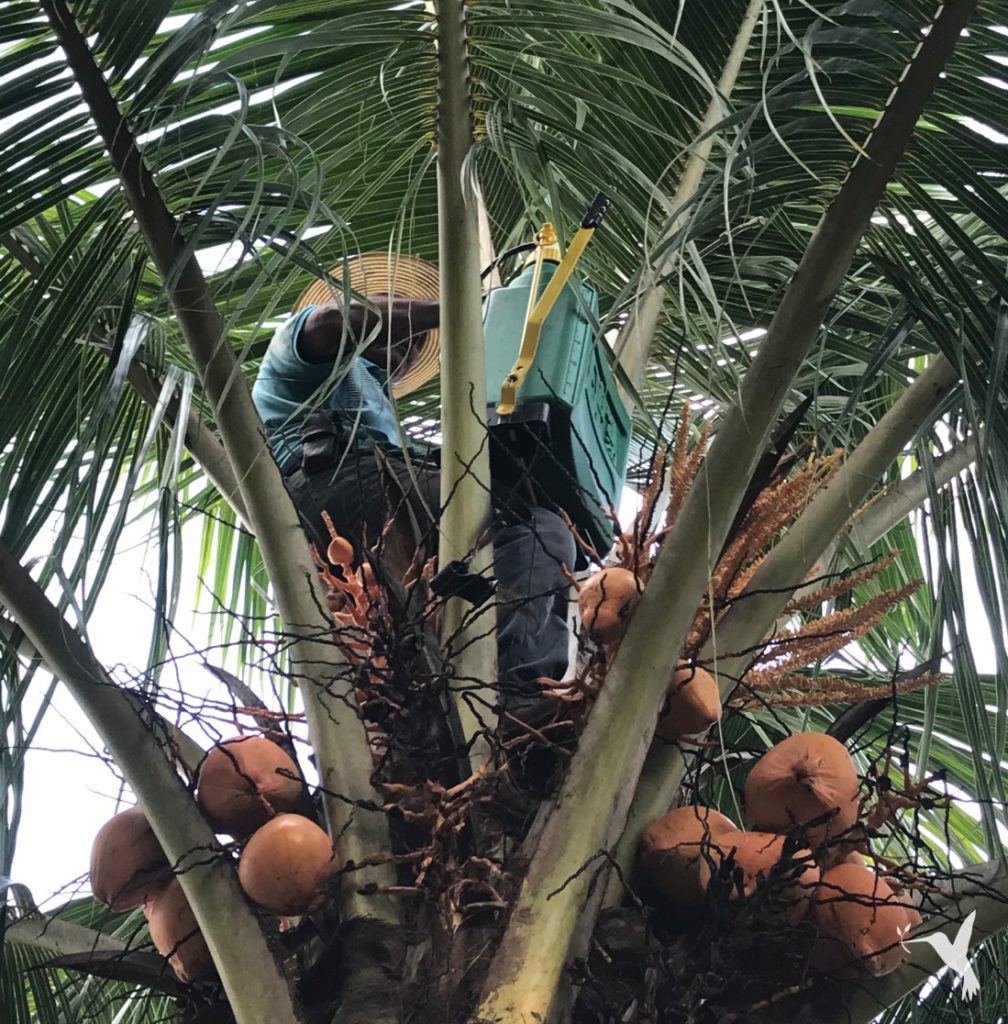 After a job well done, Lyn smiled and offered us coconuts. Ovidio brought a few down for everyone, and we finally trekked our way back to the house, where we were officially greeted by the animals: A sweet mutt named Cora (short for Coralina) and three cats: Barba Negra, 'Stache, and Luna.
Lyn designed the house herself. Spacious, tasteful, and homey, it had taken her years to build it exactly how she wanted. After settling in, we got to talking—about our day, Lyn, her farm, her ideas and goals for it, her artisanal chocolate, and our plans for the week.
We got to hear all about her nomadic, artistic life, and how a Grateful Dead concert changed it forever by leading her to the job of her dreams. How she lived and worked in Silicon Valley for twenty-five years, and how she passed on going back to school—to the art school of her dreams—for a cathartic six month stay in Costa Rica, which eventually led her to a new life as a farmer in Panamá.

Lyn created ArtFarm as a space where anyone could come and stay for an in-farm experience. An internship of sorts, the minimum one-month stay is intended to give visitors the chance to fully engage with the land and all that comes with it.
A stay at ArtFarm is ideal for fellow artists and creatives looking for the perfect space for inspiration, or maybe a chef wanting to participate in an in-farm residency, cooking with the terrain's own ingredients. It's for anyone, really, who simply wants to get away from the noise and enjoy a personal getaway that connects them with farm work and life. Anyone looking to reevaluate their relationship with what they eat, where it comes from, and learn about the love and work that goes into growing it.

What followed for us was a short, week-long sample of exactly that. Lyn gave us a tour split roughly into three parts. In the first part of the tour, we harvested turmeric, visited guava trees, plucked and ate Surinam cherries, and harvested lemons, a mandarin, and an avocado—a big one, brought down from high up a tree by a team member successfully shooting previously harvested fruit at it.
We were also introduced to her "sugarloaf" pineapples. The variety is incredibly sweet and has a soft, edible core. A gift from her neighbor, Don Félix, who'd since passed. His generosity prevailed and multiplied, however, from ten pineapples to four hundred. Last but not least, we discovered the incredible biribá and breadnut—a fruit that looks and tastes like a smaller, sweeter soursop, and "the chestnut from the tropics," respectively.

Part two of the tour mostly revolved around what we called "la casita" or "little house," Lyn's green building project. Here we met Carlos, who was working on it. As the house was still under construction, we had the chance to get our hands and feet dirty and help with the adobo mixture and walls. Lyn envisions guests staying in this "casita" and enjoying a digital detox.

Part three of our tour consisted of picking herbs like stinging nettle, patchouli, guava leaves and passion flower for tinctures—which Lyn would teach us how to make—seeing her amazing cacao trees on the land and the younger ones at the nursery, and going to the river.
Our stay was filled with activity: Constantly cooking and creating recipes together. Playing "fishbowl," an aggressive blend of charades and Pictionary, at night. We drank warm ceremonial cacao and relaxed next to a bonfire. We ate "sancocho" (panamanian chicken soup) at the local "fonda" (a small, roadside restaurant) together.

We attended the community's Friday market, where Lyn had a stand selling her farm's biribá, homemade turmeric and galangal pastes, "Love Yourself Now" (L.Y.N) tinctures, loaves of breadnut banana bread, and wonderful Quetzal Cacao chocolate bars.

A highlight among highlights was the opportunity to witness Lyn's chocolate making process for her artisanal brand, Quetzal Cacao. Moved by her farm and its energy, and what she lovingly calls "Cacao Spirit," she was inspired to create the brand. She makes her artisanal, small batch, two-ingredient (cacao and sugar), meticulously tempered, glossy chocolate at 72%, 80%, 90%, and a strong ceremonial grade 100% from the cacao grown on her farm. We were lucky enough to try many of her treats, including a few samples of her bon-bons—one with a peppermint ganache, and another with a guava and citrus filling.

From Hartford, Connecticut, to San Francisco, California, and finally to the village of Sortová, Chiriquí in Panamá, Lyn is always expanding. When we headed off, she was in the process of exploring the vision for ArtFarm, down to the possibility of a name change. We left in awe of the seemingly endless abundance provided by the farm, grateful for the experience. Quetzal Cacao, Don Felix's Pineapples, "la casita," the biribá—this isn't the last time we will visit Lyn or ArtFarm.

---
Click here to learn more about Lyn and the ArtFarm experience.
Follow the farm @artfarmpanama and Lyn's artisanal chocolate's @quetzalcacao.