Producer Spotlight: A Ricchigia, Bio Bronte
We were greeted by Laura, who opened her farm, house, and culinary talent to us, sharing the best pistachios that she and her family produce.
A Pistachio Experience Alongside Etna Volcano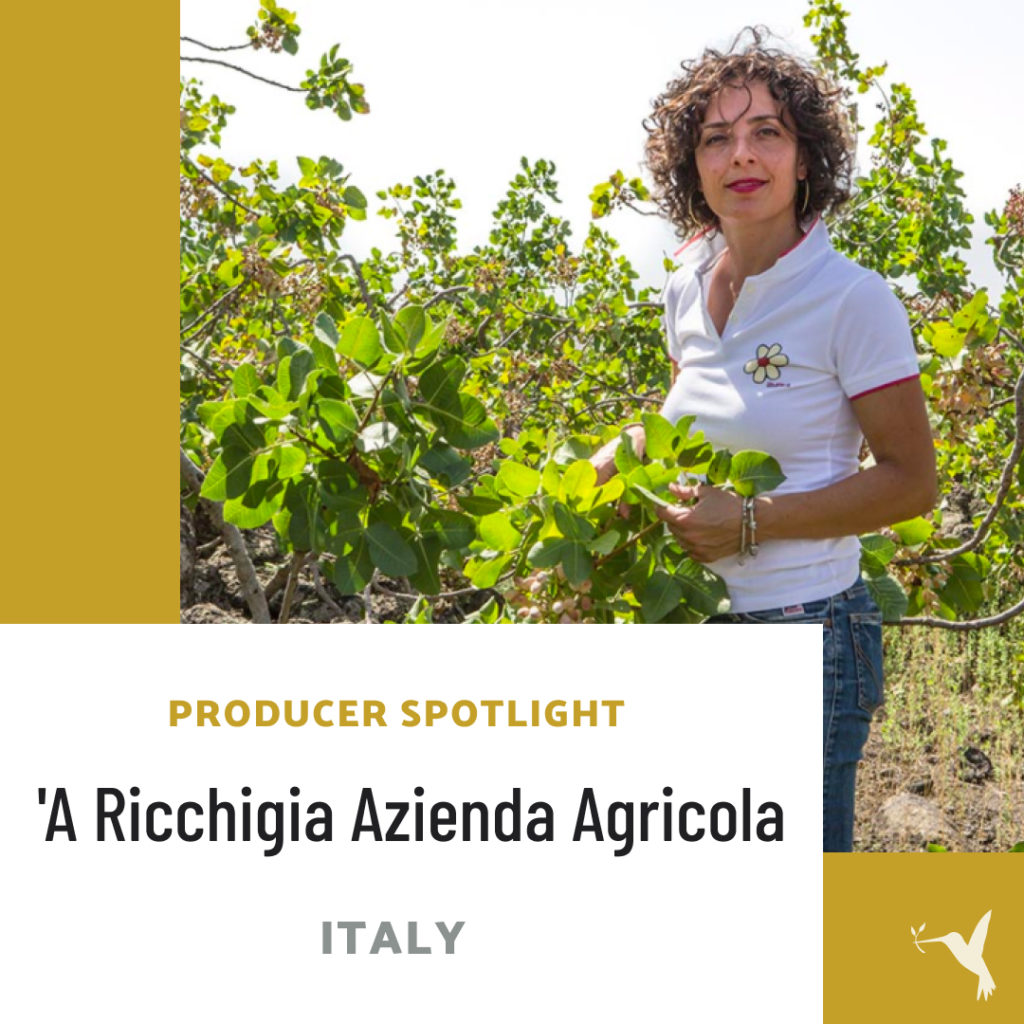 A Ricchigia is a pistachio farm located in Bronte, Sicily. They have been producing pistachios for three generations. The owners of the farm, Laura Lupo and her husband, are visionary producers who took inspiration from the organic agriculture movement. They built an ecosystem of beneficial plants and insects in order to protect their pistachio trees against climate change.
From this initiative, BioBronte the first farm in the area to apply organic agriculture techniques, was born. These techniques make a difference not only in the production of pistachios, but also other crops that grow in the area, such as pears, grapes, figs, and tomatoes.
When the Producers Market team visited, we were greeted by Laura, who opened her farm, house and culinary talent to us. For our tasting delight, she shared the best of the pistachios that she and her family produce. Our experience began with a visit to Bio Bronte's processing facility, followed by a tour of A Richiggia, where we got to see the different plantations that complement the pistachio cultivation in this special ecosystem. We finished the tour at Laura's home for a pistachio tasting she prepared herself.
Welcome To Pistachio Paradise
We began our tasting with one teaspoon of pure pistachio oil and an explanation of the extraction process and its nutritional benefits. The special process makes it so exquisite that it shouldn't be mixed with anything else.
Next, we had an appetizer of several different dishes derived from the farm's own fresh harvests and products processed on-site. Each ingredient highlights quality and proximity to the source. We had homemade pizza topped with pistachio pesto, caponata (a traditional Sicilian dish) with fresh bread, fresh salad with artichokes and tomatoes from the farm, and pecorino cheese topped with artisanal jams made from local fig, prickly pear, and peach. The dishes featured new flavor combinations with pistachios and opened our taste buds to a top culinary experience.
For the main dish, we enjoyed a pistachio pasta in pistachio pesto topped with chopped pistachios and parmesan cheese. And finally, we had a dessert starring sweet, crispy pistachios and almonds accompanied by fresh pears from the farm.
This was definitely a pistachio paradise experience. From appetizer to dessert, Laura guided our tasting journey. As we ate, she shared stories and nutritional facts about pistachios and the quality and process of all their products.
Fertile, Organic, & Sustainable Sicily
Bronte is a small town that produces 80% of Italian pistachios. This abundance is attributed to the strategic location alongside active volcano Etna, the largest in Europe. Etna provides the ideal soil and climatic conditions for this native tree. Not only does they grow well, but they produce around 20 kilos of "A ricchigia" pistachios every two years. The trees that generate this nut produce their first fruits after 14 years.
The sustainable practices of producers like A Ricchigia preserve the health of the plants and therefore, the nutritional level of the product. A Ricchigia make important decisions in a time of climatic and ecological shifts. Many producers seek to follow the same artisanal practices as A Ricchigia, but many find it necessary to utilize fertilizers or other chemicals. Many claim this is due to a lack of resources or decrease in yield owing to climate change. These chemicals do ensure a certain quantity of production, but also critically lower the quality of the final product.
Many Sicilian producers are preserving wild trees and continuing to apply artisanal techniques. In Sicily, when it comes to organic practices, the land itself provides the conditions for trees to grow and even multiply naturally.
Bio Bronte's vision is based on conservation of artisanal practices. In addition to the unique flavor of their nuts, the brand highlights the nutritional benefits of everything they produce. This is how they became pioneers in the region. It is also how they continue to influence the community of farmers in Bronte and Sicily.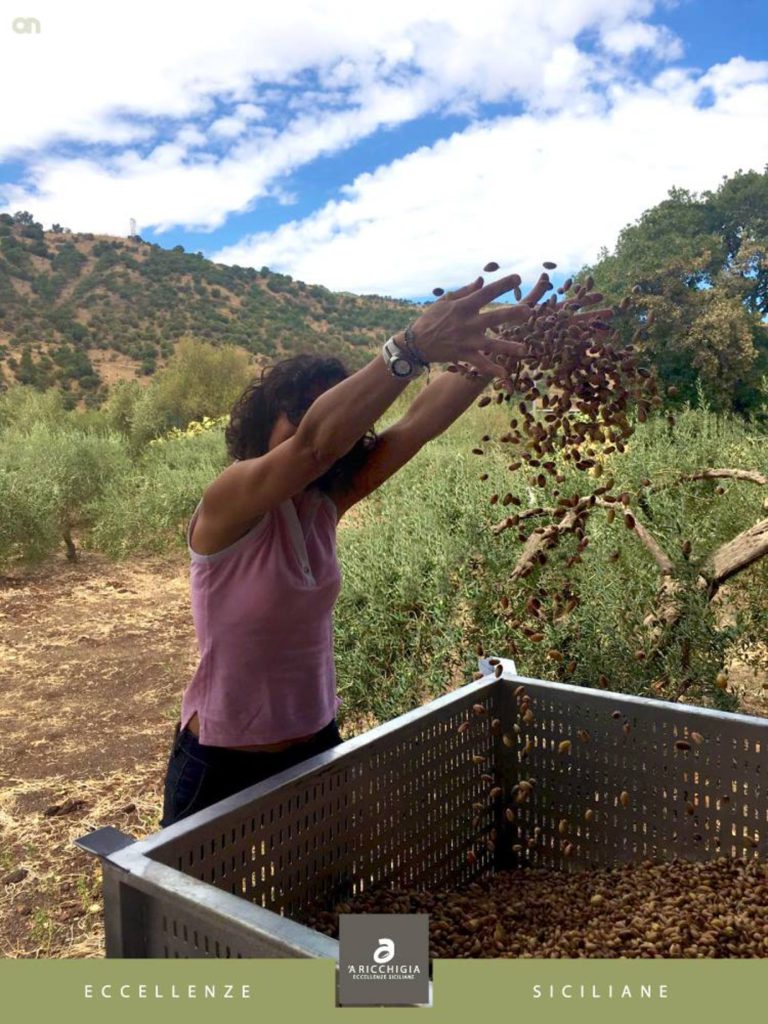 Some of Laura's insights:
"We believe that alongside visits to our farm and facilities, opening our house and sharing our story brings everybody closer to the importance of knowing the farmers. It is a pleasure for us to share our production methods and culinary traditions, because they are gifts that deserve to be valued and shared in an authentic way."
Along with Laura's well-spoken insights, we shared an intimate, warm experience at the farm. We left with more knowledge and motivation to keep supporting our producers' visions and sharing their valuable products with the world.
Together, we can build a strong farmer community. We invite you to take active steps toward becoming a conscious consumer; educating ourselves and knowing our farmers will have direct, positive impacts—on them, and on the earth.
---
Learn more about the pistachios from Bio Bronte here: