Three Easy Ways to Practice Conscious Consumerism
Many of us would like to make a positive impact in any way possible. Are you a conscious consumer?
Tips and Tricks for Sustainable and Eco-Friendly Shopping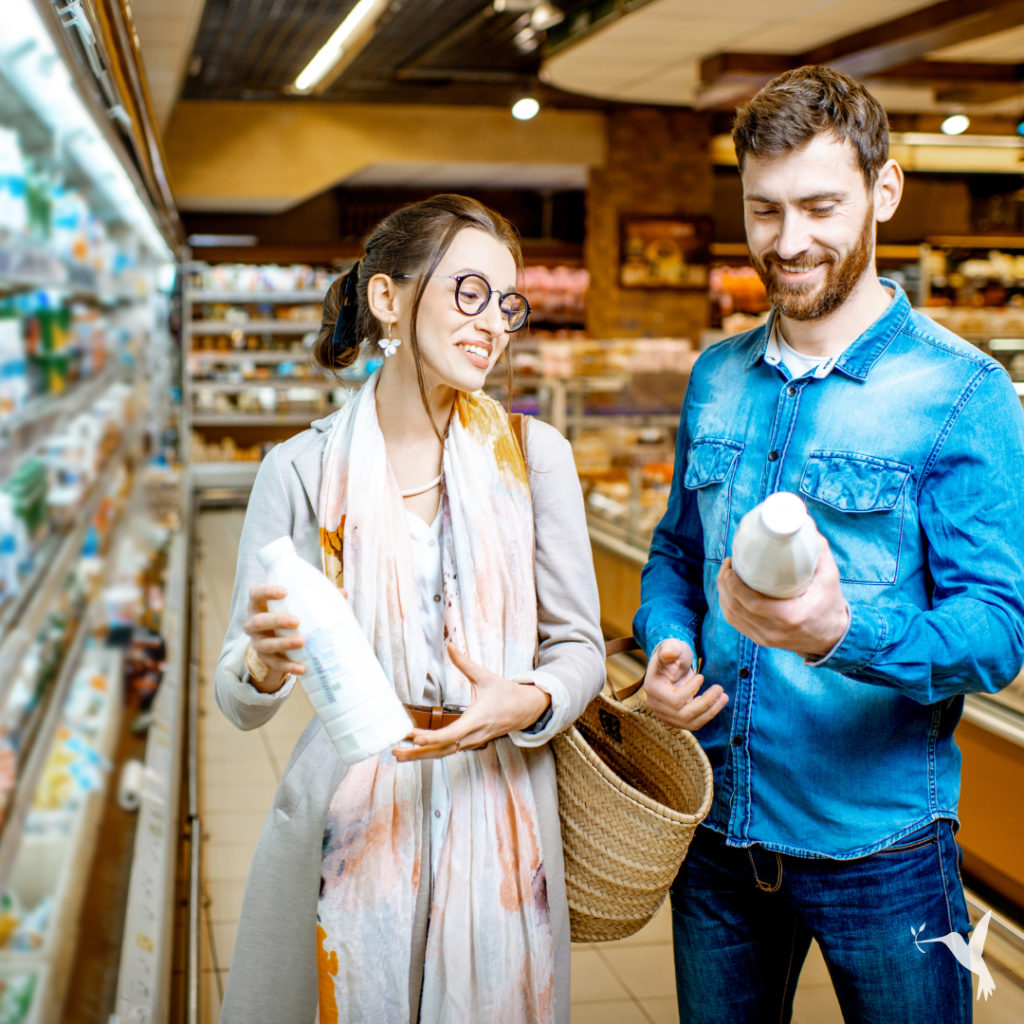 Conscious Consumers Demand More
Do you consider yourself a conscious consumer? Maybe you are without even identifying as one. A conscious consumer is someone who makes deliberate buying decisions to create a positive impact on our society, economy, and environment.
Many of us would like to make a positive impact in any way possible. Almost 90% of Generation X consumers said that they would be willing to spend an extra 10% or more for sustainable products today, compared to just over 34% two years ago.
With sustainable products flooding the market, however, walking into the supermarket as a conscious consumer can be daunting. As the demand for sustainability continues to skyrocket, more information (and misinformation) about products becomes available. Consumers need to be prepared for how to navigate it.
Conscious Consumerism Goes Beyond Food Purchasing
Although conscious consumerism often focuses on food and produce, this concept expands across all industries. Determining which clothes, cleaning products and other household items, and even furniture to buy based on their environmental impact or ethical manufacturing process all falls under the realm of conscious consumerism.
Choosing to buy a specific product or even choosing to purchase nothing because of environmental impact, are both conscious consumer choices.
Here are the top three ways you can be a conscious consumer.
Look for Key Certifications
As sustainability and conservation efforts continue to inspire the consumer world, many stores now offer a wide selection of eco-friendly products. Conscious consumerism is all about reducing our ecological footprint. Certifications on products are useful resources when deciding which products to purchase.
Unfortunately, not all certifications and claims guarantee sustainable products. For example, some companies use greenwashing tactics to take advantage of the underregulation within the agricultural industry. They may make bold claims about sustainability that they do not necessarily have to prove. Greenwashing is deception and misperception around a brand's actual green impact and sustainability levels. Understanding which certifications to look for and which claims to believe is a critical aspect of sustainable shopping.
A good place to start is to look for organic labels. Also, look for Fair trade brands, which are companies that meet a set of standards that promote ethical and sustainable practices. B Lab certification takes things a step further. Certified B Corporations are the most sustainable and regenerative companies within their respective industries. There is even a non-profit organization, B Lab, that supports businesses working towards a regenerative economy together with a sophisticated method for measuring a company's social and environmental impact. Brands with Fair trade and B certification labels are good ones to look for when practicing green consumerism.
Repurpose Your Old Items & Purchase Repurposed Items of Others
All of us have clothes and other items that don't serve us anymore. Many people continually discard commodities that could instead be repurposed and reused by another individual or community. Thrift stores are great outlets for donating old clothes and household items. If you want to make a little side cash instead of donating, you may be able to sell old clothes and items online. Repurposing is all about finding another sustainable use for old belongings and keeping products circulating as long as possible.
Not only do conscious consumers donate to secondhand stores, they shop there as well. Secondhand shopping is a great way to reduce our ecological footprint and conserve items that would've gone to waste. Rather than supporting fast fashion and big box stores, check out the local thrift stores, flea markets, and secondhand shops in your area.
Avoid Single-Use Plastic
Did you know that plastic can take hundreds of years to fully break down? The convenience level is high, but buying plastic and using it only once, is absolutely not sustainable. Our society's "throwaway culture" is out of control.
Reusable alternatives to single-use plastic are now widely available and affordable. From specific produce containers like banana leaves to general reusable containers made from hemp or bamboo, there really isn't an excuse for the abundance of single-use plastic. While cutting out all single-use plastic may be an unrealistic endeavor, we can all limit our use of it without too much inconvenience. As we transition into a more sustainable lifestyle, increasing our use of reusable containers is a step in the right direction. Many companies have redesigned their packaging to be recyclable, compostable, or shifted to more sustainable materials.
Incorporating even just one of these practices will make an impact on our planet and build connection to one another through a shared love for our earth. Many producers and consumers are driving change within the agricultural industry with the same goal in mind: sustainability. The transition to a more sustainable society, however, may create confusion for consumers and gaps between producers and consumers. The majority of consumers are not meeting the farmers who harvest our produce and vice versa. Our vision at Producers Trust is to help bridge this gap within our agricultural communities in order to build a healthier and more sustainable world.