Producer Spotlight: Tama Cosmetics
As a result of their social, educational, and economic initiatives with shea butter, Tama Cosmetics has benefitted over 5,000 women in the area.
Women's Critical Yet Undervalued Role in the Production of Shea Butter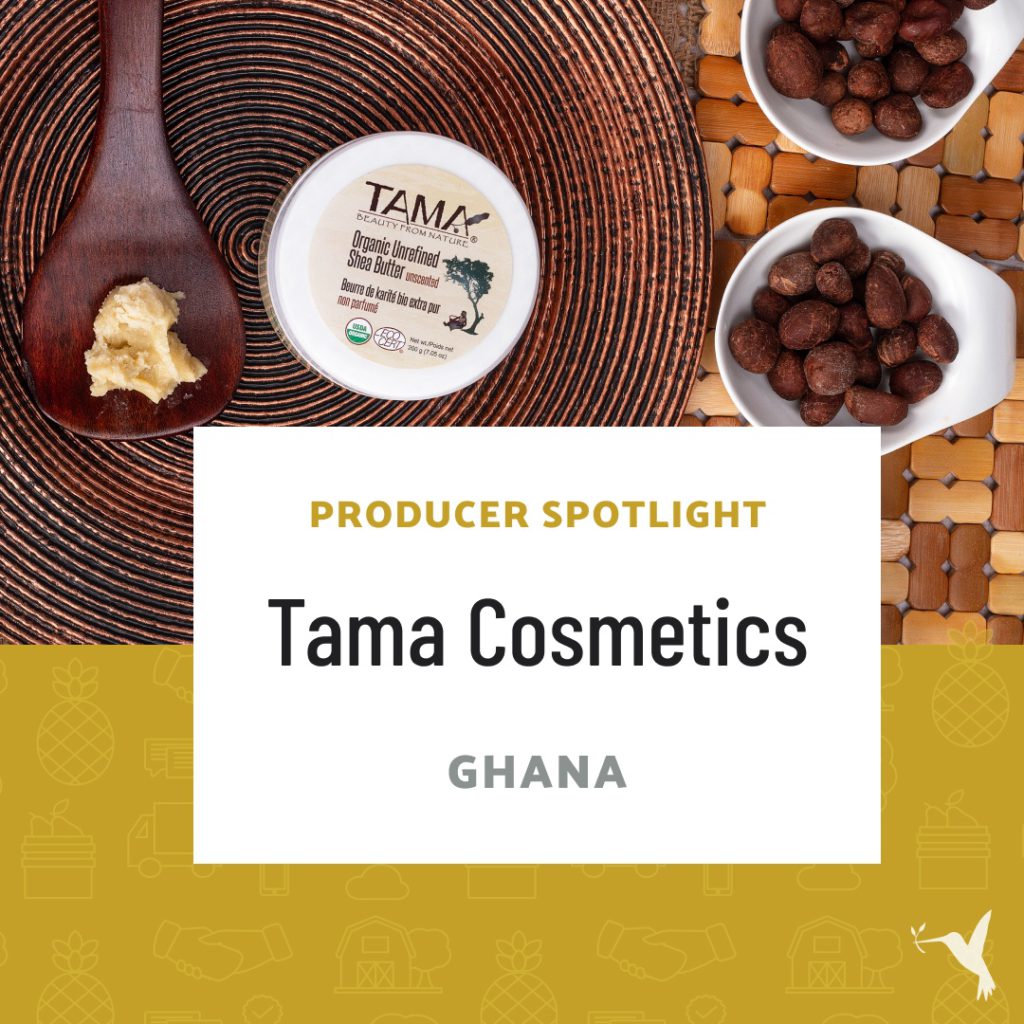 Amazing Product, Sacred Tree
Shea butter is antibacterial, anti-inflammatory, antifungal and antioxidant. It is soft, creamy and easy to spread onto skin, and its high concentration of vitamins and fatty acids make it perfect for smoothing, soothing, and conditioning.
Shea butter and shea butter products from Tama Cosmetics are vegan, 100% pure, unrefined, and organic. They are healing for all types of skin, and help with dryness, sunburn, eczema and acne, among other things.
Shea trees are native to West Africa, and the tree is sacred in many societies. It takes a tree 20 years of growth before it starts producing, and once it does, one tree produces shea fruit for an average of 300 years. Most shea butter in the world comes from this region, where, in addition to skin and hair care, it has many other medicinal uses.
The shea tree is a communal tree, protected by cultural tradition and modern law, and they cannot be cut down. In some societies, it is called the Tree of Light. In parts of Nigeria, shea is called Ori, which is a reference to a powerful spirit of nature, Orisha, and in one region of Ghana, it is called, Tama, hence the name Tama Cosmetics.
Traditional Shea Production

The shea butter process begins with the picking and collecting of the shea nuts for transport to local factories where they are crushed and dried. The nuts are then roasted or boiled over wood fires to release the oils for processing into creams, butters, soaps, and charcoal briquettes. In raw shea butters, you can often still catch a faint aroma of wood fire.
For thousands of years, this process, from picking to packing, has been done by women. In Ghana, people believe that the quality of this traditional processing is far superior to any mechanized methods. However, the international demand for shea butter puts a strain on the gender dynamics within the traditional model. As more and more economies of scale are introduced, more men are interested in the industry, which has long been led by women.
Women-centered, Women-led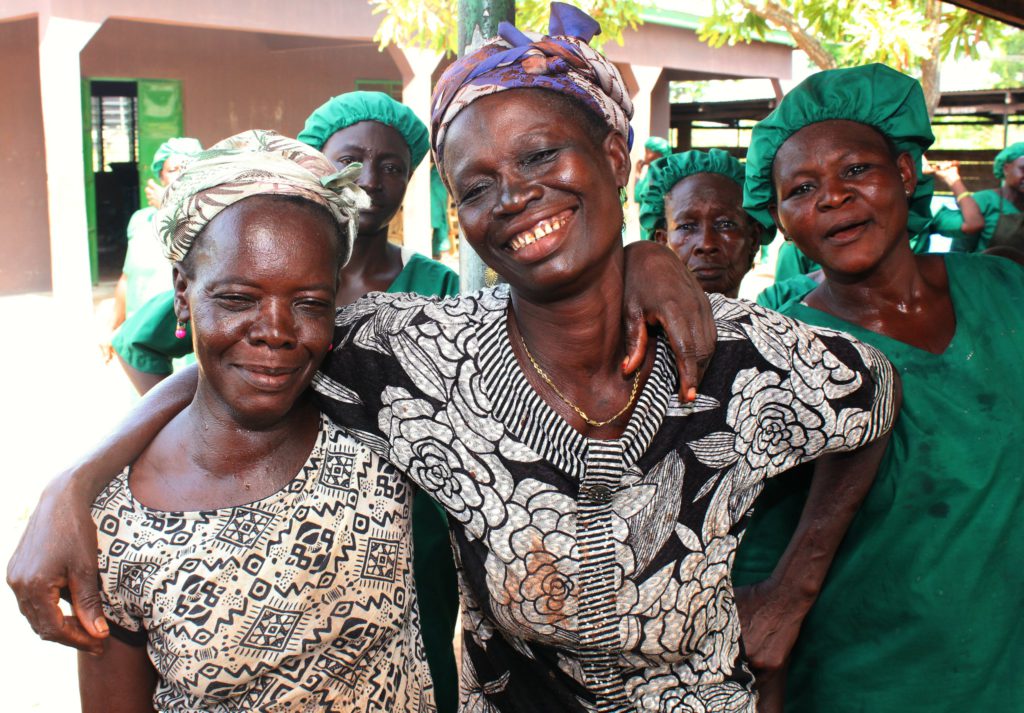 Tama Cosmetics is committed to maintaining the traditional women-led model in their world-class system of processing, packaging, quality control, and logistics. They collaborate closely with the SeKaf Shea Butter Village women's cooperative and currently buy shea nuts from approximately 5,000 women. The company, which received an award for Indigenous Product of the Year, sees local women as a critical link in the shea supply chain. It is their goal to help break the cycle of rural poverty in northern Ghana, and with their income-generating solutions, they are certainly empowering women—in their businesses and their lives.
Tama Cosmetics was founded in 2003, as an export company dealing with a variety of West African raw materials. In 2004 they began to specialize in shea, and in 2006, the company transitioned to a social enterprise with a focus on improving the economic status of rural women.
By providing women with technical and life skills, increasing market access, and paying a premium on quality, organic nuts, Tama Cosmetics creates a sustainable and holistic supply chain. With the belief that every single person deserves to work in good conditions with fair compensation, they are committed to equity throughout the entire shea chain, from the first step to the delivery of finest-quality bath and beauty products to their customers. This also means protecting and caring for shea trees and harvesting shea fruits with organic and environmentally friendly methods, since the trees are the base of the chain.
At Tama Cosmetics, the connection is clear between environmental stewardship, a long-lasting business model, and healthy community relationships, and this connection is often tied to gender dynamics. When women play a role in shaping society—and not just serving it—the outcomes are better for all, including the environment. Tama Cosmetics remains devoted to treating all their stakeholders (shea pickers, shea butter processors, employees, customers, and the natural world) with respect and dignity.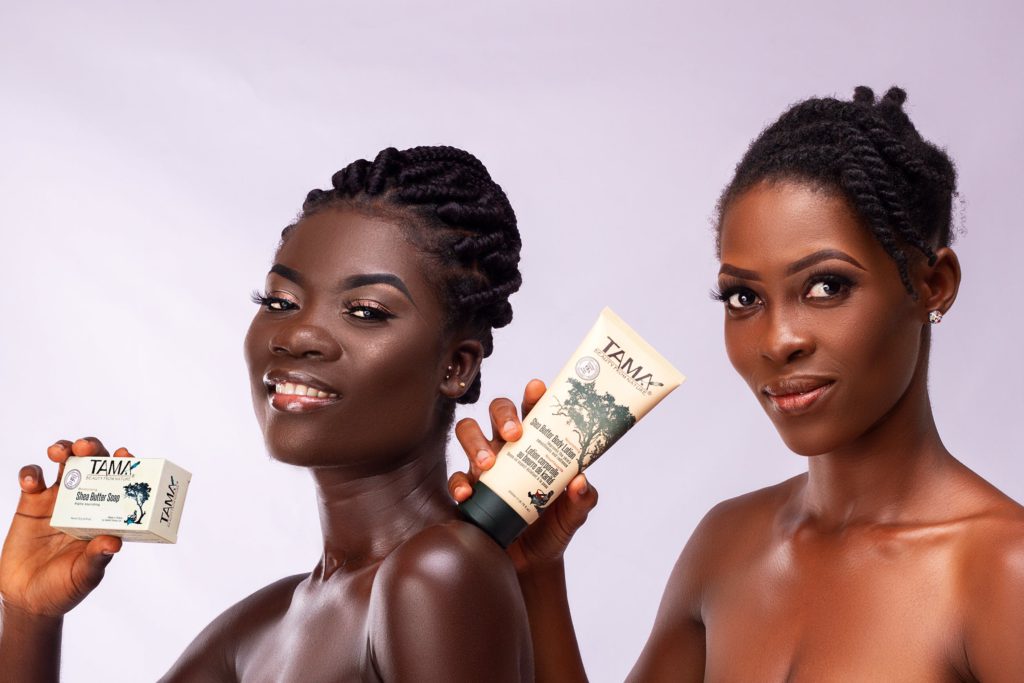 ---
Join Tama Cosmetics in their devotion to lifting women out of poverty, even as you moisturize your skin. Every purchase to a women-led initiative is an investment in a world that functions better for all.