Farmers in India Protest New Reforms
Indian agricultural workers are protesting reforms that will deregulate agricultural markets. They believe that these reforms will devastate crop prices and reduce their earnings, while giving more power to large corporations.
Agricultural Workers Strike to Protest Neoliberal Reforms
More than 20,000 farmers have blocked major highways near India's capital.
As part of the action, they have prepared a caravan of tractors loaded with rations for up to four months. These farmers are protesting new agricultural laws that were passed several months ago and say they will not leave until the government reverses the new reforms.
The laws were passed in September, and protests began right away. However, the movement has only recently begun receiving attention, as protests have gathered strength and received backlash from Indian authorities. On December 3, a nationwide demonstration united more than 250 million farmers, workers, and their allies. It is believed to be the largest organized strike in the world—ever. Now, tens of thousands of protesters have gathered at each of New Delhi's three borders in cold winter conditions, with more farmers on the way.
These farmers protest in India reforms that will deregulate agricultural markets. They believe that these reforms will devastate crop prices and reduce their earnings, while giving more power to large corporations. Farmers claim that the government has become a slave to the corporations and want to turn the people into slaves as well. Prime Minister Modi, however, claims that protesters are being misled by the opposition party, and that farmers actually stand to benefit from these reforms.
What Are the New Reforms?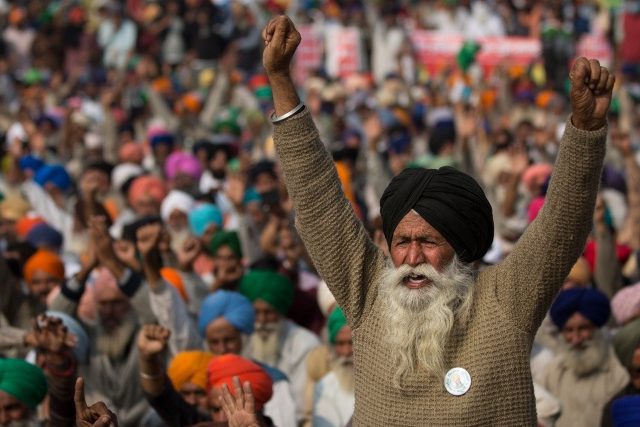 Farmers feel that the new laws are a threat to their livelihoods. The laws seek to loosen the rules around the sale, pricing and storage of farm products. The new laws also mean the government will stop buying grain at guaranteed prices.
The reforms give farmers the freedom to set their own prices and sell directly to buyers, but opponents say that these neoliberal policies are a boon to corporations and roll back key protections on labor and crop prices. The agricultural workers joining the protests fear that this new free market style of regulation will cause them to lose government-backed minimum price guarantees, leaving them vulnerable to large corporations who won't pay them enough.
The government deems these laws necessary to boost production and bring in much needed private investment. Legislators claim that with freedom to sell their crops to any buyer, rather than through the state, farmers actually stand to benefit. They insist the laws will drive up the prices.
Farmers remain unconvinced by government reassurances. Farmers believe that the laws are fundamentally flawed because they were created without farmer input and pushed through parliament without a proper vote. For these agricultural workers protesting the reforms, nothing short of repealing the laws will do.
Adding to Existing Tensions Among Farmers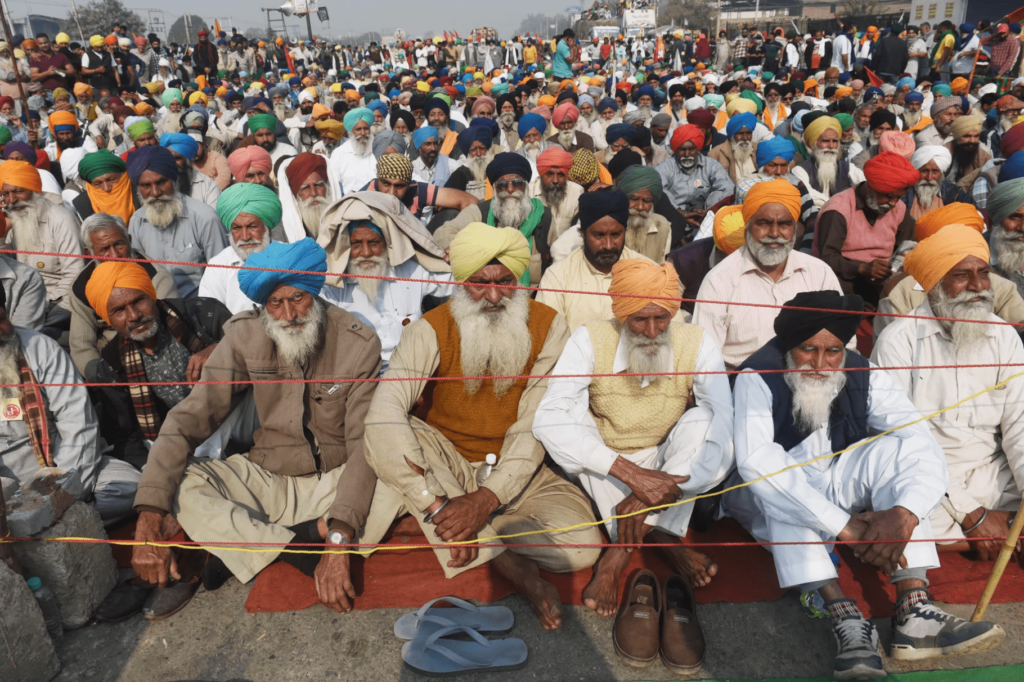 Agriculture is the leading source of income for more than half of India's 1.3 billion population.
The new laws exacerbate existing resentment from farmers who complain of being often ignored by the government and in the legislation process, even though they represent such a significant portion of the population.
With nearly 60% of the Indian population depending on agriculture for their livelihoods, the growing farmer rebellion has rattled Modi's administration and allies.
Prime Minister Narendra Modi makes no secret of wanting to modernize and industrialize India; in fact, he was elected on that promise. Modi and his leaders have tried to allay farmers' fears about the new laws while also dismissing their concerns. In a recent radio address, Modi said his new agricultural laws will unshackle farmers, giving them new opportunities. However, one of the biggest problems with the reforms is that politicians rushed them through legislation without ever consulting Indian farmers—and they did it during a time of pandemic, when many people were already feeling vulnerable.
Some of his party leaders have called the farmers "misguided" and "anti-national," a label often given to those who criticize Modi or his policies.
What's Happening Now in India?

These protests, actions, and strikes have been gaining momentum since September, but only caught the attention of the country and the media in recent days, when thousands of farmers clashed with police. Indian authorities used tear gas and water cannons to prevent protesters from entering Delhi. Leaders of the movement spoke up against this, saying how wrong it felt to be a citizen, an agricultural worker, someone representing such a large percentage of the population, and be denied access to their capital city.
Many opposition party leaders, activists and even some allies of Modi's party have called the laws anti-farmer and expressed support for those protesting. The movement has wide support, including student allies from Delhi University. Many students make posters during the day and serve food to the farmers in the evenings to show support.
While there is widespread national support, there is also a flurry of misinformation across parties and movements.
The government has now conducted several talks with movement leaders, but they have not yet agreed upon a resolution. Will the government repeal the laws so the farmers can return home? Or will the farmers have to use their full four months' worth of rations awaiting a change?
Perhaps this is part of a growing cross-cultural discontent with capitalistic greed and neo-liberal controls. We all need food to survive. We all survive off the labor of farmers and agricultural workers. What affects them directly affects us all.
Keep an eye on news from these farmers who protest in India, where a significant percentage of the country's, and even the world's population stands to be affected by neo-liberal reforms.
---
We invite you to check out our stories on agricultural solutions, and to subscribe to our newsletter to receive freshly-picked news on what we are doing for our farmers and agriculture: