Sea Buckthorn Oil Body Butter by Lhamour
Lhamour's Sea Buckthorn Oil Body Butter is described as, "a multipurpose balm that soothes eczema, heals burns and wounds, deeply nourishes dry skin, and leaves skin soft and supple." Let's see if that holds true in a tropical climate.
A Product Review
Lhamour Skincare was established in 2014 in founder and chief technologist Khulan Davaadorj's kitchen as she sought solutions to severe allergies developed from air pollution, low water quality, and extreme weather conditions.
After realizing that the available options were too inaccessible or too harsh for her skin, Khulan turned her problem into her passion. Once she learned to formulate her own products, she founded Lhamour to provide delicious, anti-inflammatory, and aromatherapeutic products for sensitive skin.
Lhamour's range of products is designed with dry, allergic, and rash-prone skin in mind, and it is perfect for itching and irritation in men, women, children, or babies. Their products are full of nourishing and soothing oils, balms and butters, and range from gentle soaps, shampoos and bath bombs to lifestyle products like wooden candle holders, tote bags, bamboo utensil sets, and salt candles made with Jamt salt (unique to Mongolia).
You can read more about Lhamour here.
Today we bring to you a review of Lhamour's Sea Buckthorn Oil Body Butter.
What is it?
As their website describes it, Lhamour's Sea Buckthorn Oil Body Butter is, "a multipurpose balm that soothes eczema, heals burns and wounds, deeply nourishes dry skin, and leaves skin soft and supple [and] helps to hydrate and alleviate dry and tight skin complexion."
Lhamour describes this body butter as "easily absorbing, smoothing and softening", and "good for dry, reddened, scar and wound healing, flared, sensitive skins."
Thoughts before reviewing
Since I live in a tropical country with overwhelming heat and humidity on any given day, the phrase "rich and creamy" being used to describe body butter does give me pause. Similarly, "easily absorbs into the skin" immediately dials up feelings of skepticism.
Nourishing is good, but anything so rich it leaves what would be a "protective, hydrating film" in Scandinavia, translates into a sopping disaster in Panama.
However, it would be a mistake to forgo good moisturization to overcompensate for extreme weather. Especially when it comes in a product with a great ingredient list (my skin responds really well to sea buckthorn oil).
In any case, it very well could be fast-absorbing, so I figured I'd give it a shot.
Let's try it out!
The Lived Experience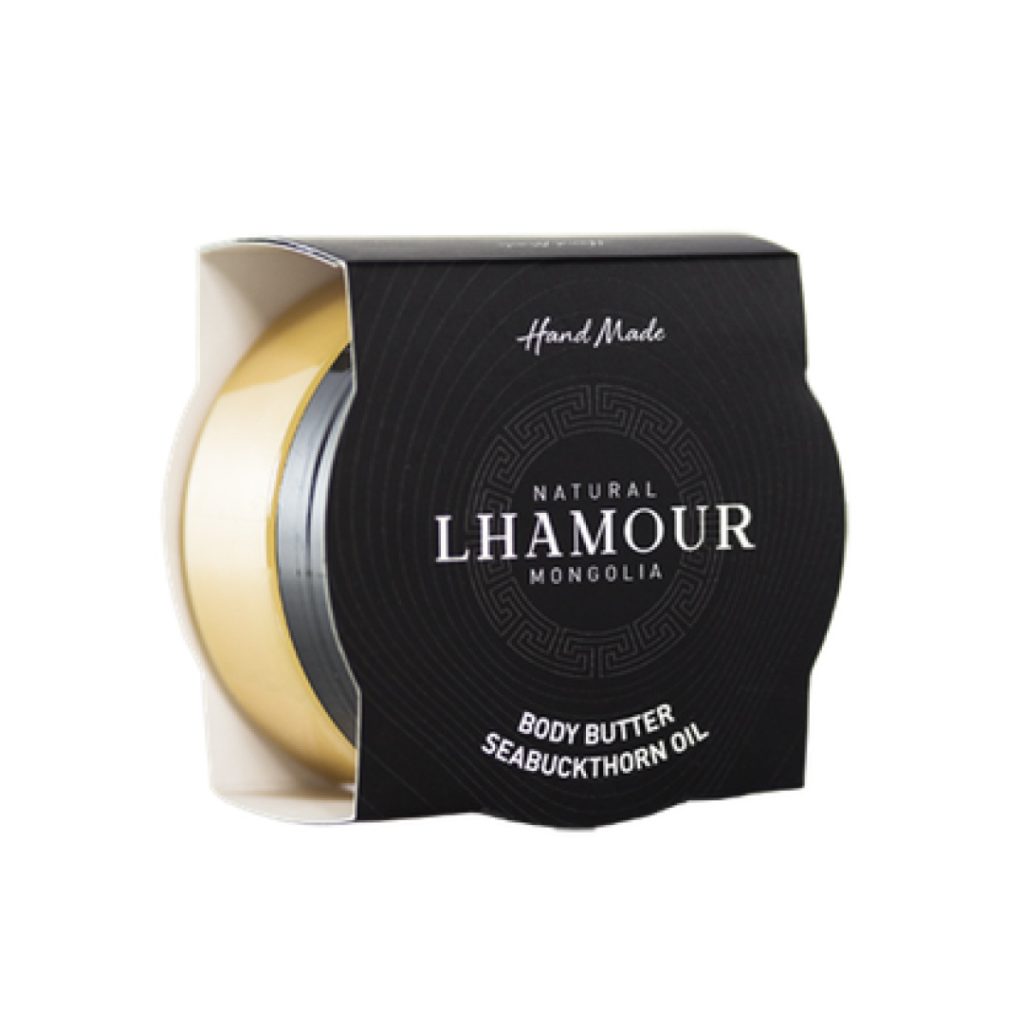 I'll go ahead and kill the suspense, because as ready I was to find this product "good, but perhaps best for other climates"—I actually just found it to be a good, all-around, nourishing product. Let's get into it.
The Texture
The consistency was interesting. In the past, I've used body butters with a texture like whipped soufflé—like products by Khiel's or Josie Maran—or a solid block of product that you're meant to warm between your hands before smoothing over your body.
As you open up the little jar, Lhamour's Sea Buckthorn Oil Body Butter looks almost like a cleansing balm. It is a solid, buttery, marigold yellow, for a moment vaguely reminiscent of the Emma Hardie Moringa Cleansing balm. I'm intrigued.
The glossy texture melts in a satisfying way the second your fingers come into contact with its surface, leaving you with a not-too-slippery, pleasantly soft, melted butter texture to moisturize your skin.
I followed the recommended instructions and massaged after a shower over my legs, arms, and décolletage.
The Scent
The scent of lavender oil is immediate. If you are sensitive to smells, it's worth noting that while the scent is present, it's not overpowering at all. I'd call it pleasantly aromatherapeutic. It certainly elevates the application process from practical care to a process that's enjoyable for its own sake.
The Formula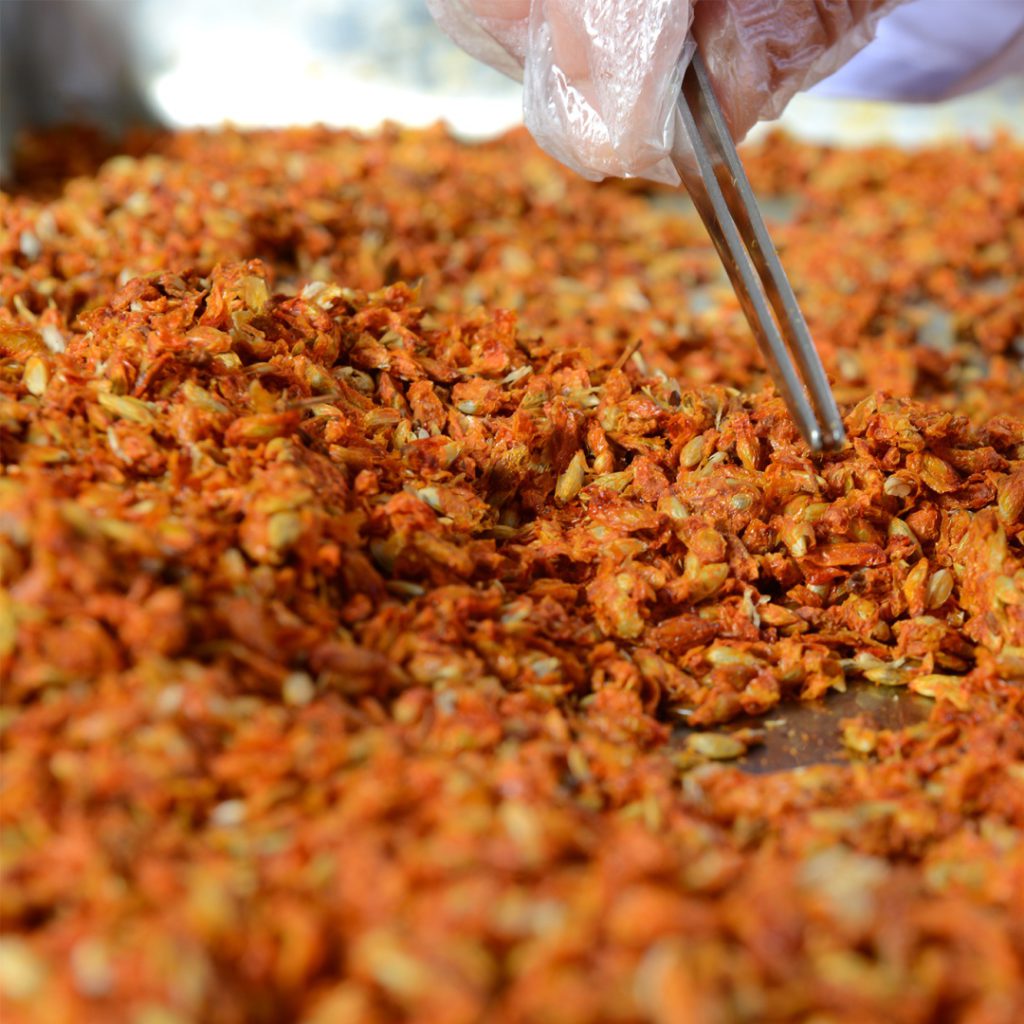 The lavender is joined by eight soothing oils—Tallow (animal fat—we'll get there in a second), Non-GMO Soybean Oil, Coconut Oil, Sunflower Oil, Rosehip Oil, Shea Butter, and Beeswax—and is followed by sea buckthorn oil and vitamin E.
The beeswax, rosehip and sea buckthorn oils are my favorite part. Rosehip oil is known to help with collagen formation and hyperpigmentation; beeswax is a natural humectant and exfoliant; and sea buckthorn oil—the star of the product—balances out the skin's oil production, heals and soothes, all while boosting radiance and elasticity.
The Elephant in the Room: Tallow
I was surprised to learn about the healing qualities of tallow. Its molecular structure is very similar to that of naturally occurring oils and lipids in our skin, so it absorbs seamlessly.
Tallow is full of Vitamins A, D, E, and K, as well as essential fatty acids that deeply penetrate the skin, such as Conjugated Linoleic Acid (CLA), Alpha Linoleic and Linoleic Acids (Omega 3's and 6's), Oleic Acid, Palmitic Acid, Palmitoleic Acid, and Stearic Acid—which protect against environmental damage, microbes, and inflammation.
Nomadic herders in Mongolia (and other parts of the world, like Germany) have used tallow for centuries to protect their skin, and Khulan works directly with them to source hers, which is lovely to know.
Who is it for?
According to the Lhamour website, this product targets dry skin, eczema, scar and wound healing, and redness. I'm pleased to say that while this Sea Buckthorn Oil Body Butter is intended to treat those conditions, it is not so rich that it cannot suit normal skins (not dry, not oily).
(I can't speak from experience, but I would even go as far as to recommend it to people with oily skin to at least try it out, since sea buckthorn oil naturally regulates oil production.)
The Verdict
Ladies and gentlemen, Lhamour's Sea Buckthorn Oil Body Butter does absorb nicely into the skin! I find it works best if you take a moment to work it in. But once that's done, there is no oily, uncomfortable residue (which is a no-go for me)—only softened skin that's velvety to the touch.
I've fully integrated this product into my personal routine. And aside from using it to routinely moisturize large swathes of skin, I also like to massage it into knees, elbows, cuticles, and any kind of dry patch.
Would I Recommend It?
Yes. I find this body butter easy to apply, light enough that it doesn't feel sticky or uncomfortable throughout the day, and beautiful to use with its sweet lavender scent. After continual use, skin feels softer and bouncier.
And that is it! I hope you find this review useful. We'd like to thank Khulan and everyone at the Lhamour team for sharing their products with us.
---
If your interest has been piqued, you can check out Lhamour's full catalog on their website, and learn more about them through their Producer Profile.