Producer Spotlight: Oatman Farms & Oatman Flats Ranch
Oatman Flats Ranch is the first certified regenerative organic grain farm in the Southwest.
How A Family Farm Used Regenerative Agriculture to Save Their Land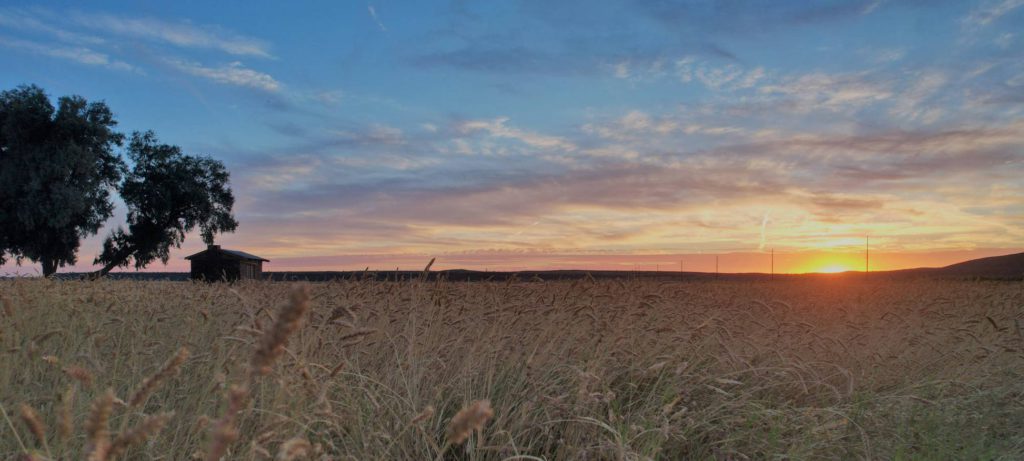 At Producers Market, we know many farmers who are using some or many regenerative practices. Oatman Flats Ranch in Arizona is one inspiring example. The farm, while owned by the same family for many years, only transitioned to its current ownership and model in 2018, around the same time Producers Market began. We have been growing and learning alongside each other.
Oatman Flats Ranch certified as organic in 2019, and as of this past December, the farm is now officially regenerative organic certified. They are the first certified regenerative organic grain farm in the Southwest, and they are now working on completing their certification for regenerative agriculture as well.
The History of Oatman Flats Ranch and Oatman Farms
Dax Hansen is the current owner and operator of Oatman Flats Ranch and founder of the sister company, Oatman Farms. Oatman Flats Ranch has been in the Hansen family for four generations. Dax's grandfather raised Quarter Horses and grew cotton on the land for 50 years; more recently, Dax's uncle owned the farm, though he never cultivated anything. He mostly rented the land to other farmers who continued using conventional practices.
These farmers worked with the best knowledge they had so their families could stay in business. Most of their practices—chemical spray, heavy tillage, and monocropping—were thought to be the only viable methods for a profitable farming business. However, most of these lead to detrimental soil erosion, nutrient depletion, poor crop resiliency, biodiversity loss, and ecosystem imbalance.
When his uncle decided to sell the farm, Dax bought it. He didn't want to see the family lose their land.
Dax then rebuilt it completely, starting with the infrastructure. In the arid Southwest, Oatman Farms is committed to revitalizing and sustaining family farms in hotter and drier environments, just like their own Oatman Flats Ranch. The ranch is a case study of agricultural methods for arid lands that may sustain healthy ecosystems, including people, crops and domesticated animals, as well as native flora and fauna.
Oatman Flats Ranch Today
The current Oatman Flats Ranch team consists of five full time staff. There is Dax, of course, Macario Isidro Miron Rodriguez and Juan Carlos Gutierrez, the two farm hands, Yadi Wang, the farm manager, and Malia Kellerman, who oversees product goods and marketing for Oatman Farms. They all also work with other teams and the community around them, showcasing cooperation and community. They see these values as the only way to make this venture work.
Oatman Farms, the sister company of the ranch, while still quite new in operations, is already selling some unique products. They offer a variety of sourdough bread as well as pancake and waffle mixes, all using the regenerative organic-certified grain grown on the ranch. The ingredients that they source from other vendors for their mixes are all organic, fair trade, and of the highest quality.
With those credentials, the mixes must be good! Coincidentally, Jerilyn Broussou, the co-creator of the original Cinnabon is a close friend of Dax, and also his neighbor. She and Dax joined forces to create nutritious, dense, and tasty mixes for the brand to send to market.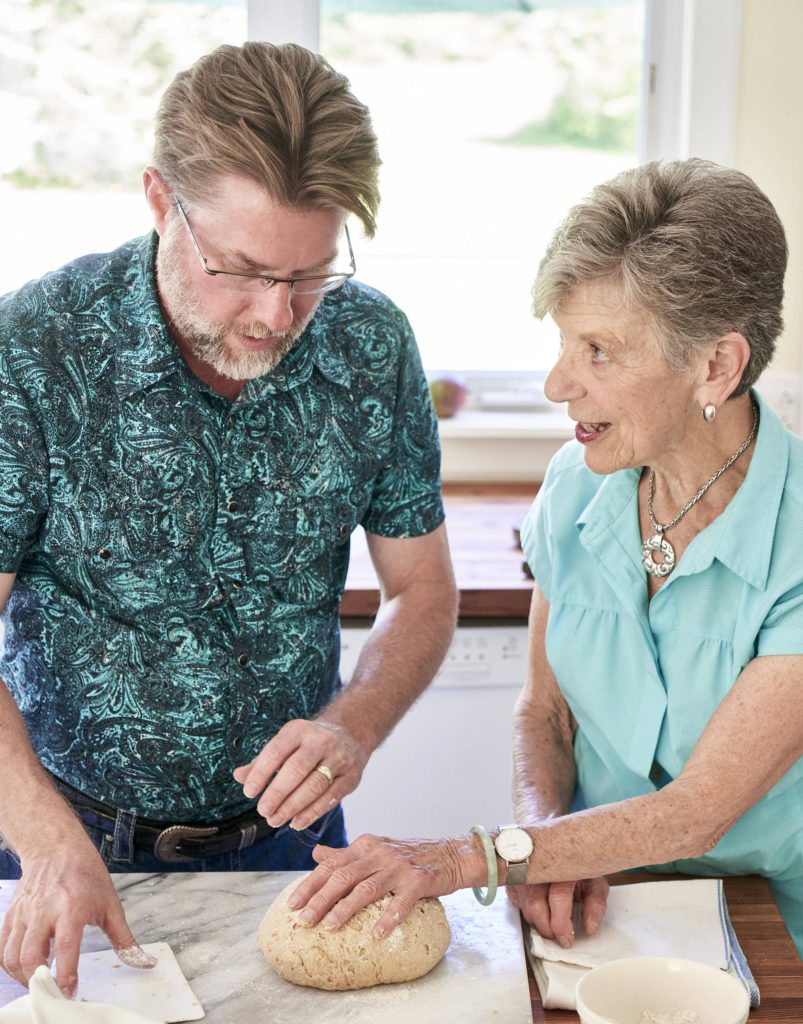 Consumers can find their products in stores all over Arizona, plus on Amazon, and of course, with StoryBird on Producers Market.
What's So Great About Small Grain Wheat?
Producers Market recently had the opportunity to connect with Yadi and Malia, who shared a wealth of information about regenerative farming in arid places. Yadi explained to us in detail about the processes of the ranch and types of crops they can grow in a place where water resources are a big issue. Without extensive irrigation systems and water use, Oatman Flats Ranch cannot grow the things that commercial farmers can grow in the same region.
This is why Oatman Flats Ranch chose to cultivate "small grain," particularly heritage wheat. These grains are adapted to the extreme climatic conditions of the region and require significantly less water. In fact, growing them actually conserves water, which is probably why indigenous groups in this area grew heritage wheat for thousands of years. In addition to their environmental benefits, small grains also happen to be marketable and nutritious.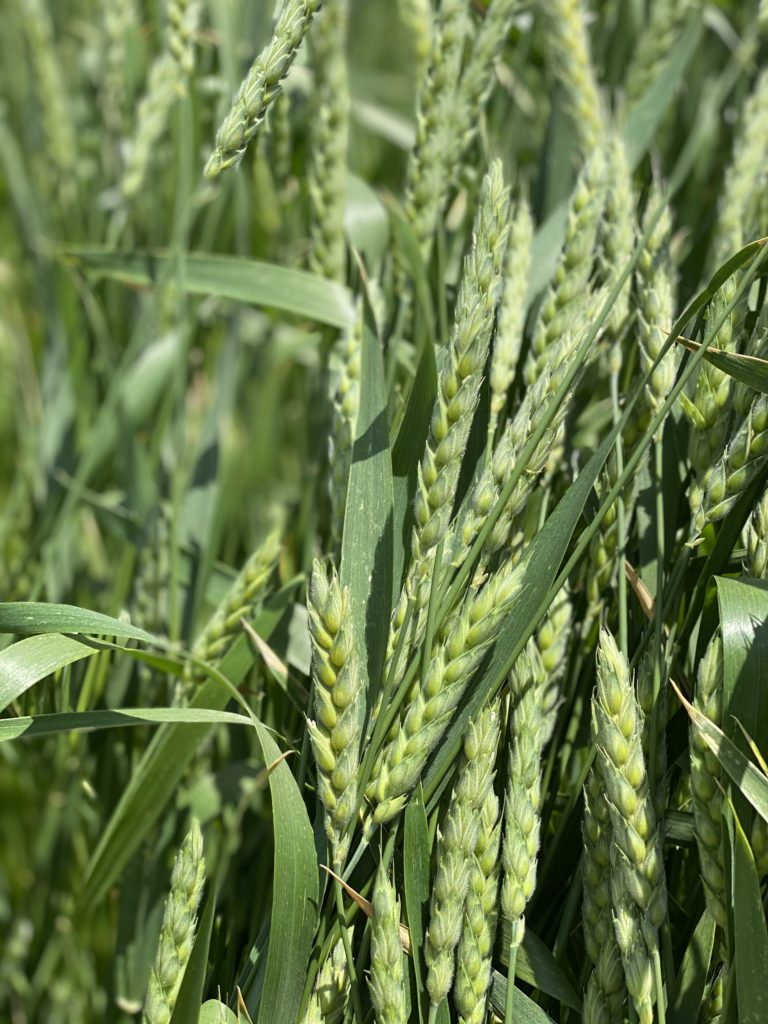 "From our data, we have found that with every pound of grain we grow, we conserve 700 gallons of water compared to the conventional commodities (i.e., alfalfa, cotton, corn) grown in our region, which means that with the half a million pounds of grains that is harvested annually, we save 350 million gallons of water, " Yadi told us. "So even with growing cover crops, we still use less water."
Yadi explained the importance of transparency to the farm. Oatman Flats Ranch believes their work should not only be traceable, but also educational so consumers have more transferable knowledge about the food they eat. "We wanted to create a model that would be completely transparent from farm to table. We are not necessarily trying to debunk conventional farming. It's more about bridging the gap between the two groups, the farmers and the consumers."
The Science Behind the Sourdough Mix
We hear a lot about carbon sequestration. Building organic soil matter is the key for soil carbon sequestration, and desert plants have less potential to do this. Carbon preservation, however, is another way to sink carbon.
So what is carbon preservation? For example, in Arizona, most water is alkaline with a high pH and a lot of carbon content. With our water conservation, we are able to preserve 8.25 tons of carbon in the aquifer. This carbon will ultimately deposit in the bottom of the ocean. It will never expose or have to escape.
"So we are actually adding a component to our work that stores carbon, helps the climate crisis, and is beneficial to the planet," Yadi explained.
Oatman Flats Ranch: A Proof of Concept in the Desert Environment
With their no-till model, the work of Oatman Flats Ranch is meant to be inspirational. Malia explained to us how the farm is a proof of concept for the desert. In addition to conserving water, cultivating gently with the earth, and offering a nutritious product, their goal is to inspire and help other farmers transition away from using harmful, conventional methods to more sustainable, regenerative practices. The idea is to show other farmers that these methods can indeed be effective and profitable.
"These practices aren't new; they have been used before. We want to honor the indigenous methods of our ancestors who lived in harmony with the earth. So many people have lost connection with the earth and with their food. We want to help build these relationships back," Malia said.
Oatman Farms and Oatman Flats Ranch are definitely an inspiration—to us and to other farmers. We look forward to seeing how their model and products thrive!
---
Discover more about the farm and their brand here. And don't forget to check out their product stories on their very own Storybird.