Threads 4 Dreams: Get Cozy In A Peruvian Alpaca Sweater
"We don't live where the corn grows, but instead we live up here with our alpacas and llamas," says alpaca breeder, Guadalupe Calachua.
Supporting Women Alpaca Breeders in the High Andes of Peru
Tolconi is a community in the high Andean region of Peru, located at 4700 meters above sea level. In Tolconi, there is an old alpaca and llama breeding tradition. "We don't live where the corn grows, but instead we live up here with our alpacas and llamas," says alpaca breeder, Guadalupe Calachua. "They feed on the pastures. Thanks to them, we can buy food and clothing." Threads 4 Dreams is a women-led initiative located here, high in the Andes, supporting women like Guadalupe.
Tolconi is located at the head of the Camaná river basin that flows into the Pacific Ocean, and the Alto Apurimac river basin that flows to the Amazon and to the Atlantic. The sacred peaks of the Chila mountain range have ice caps that provide water for the people and the animals in the surrounding areas.
Alpacas have lived in high altitudes (2,500 – 4,500 meters) for thousands of years, withstanding extreme weather conditions. In this harsh environment, not much food grows and there is only grazing land. Breeding and managing alpacas are some of the most important economic activities for high-Andean farming communities, and Peru is the world's leading producer of alpaca fiber, making 80% of the global production.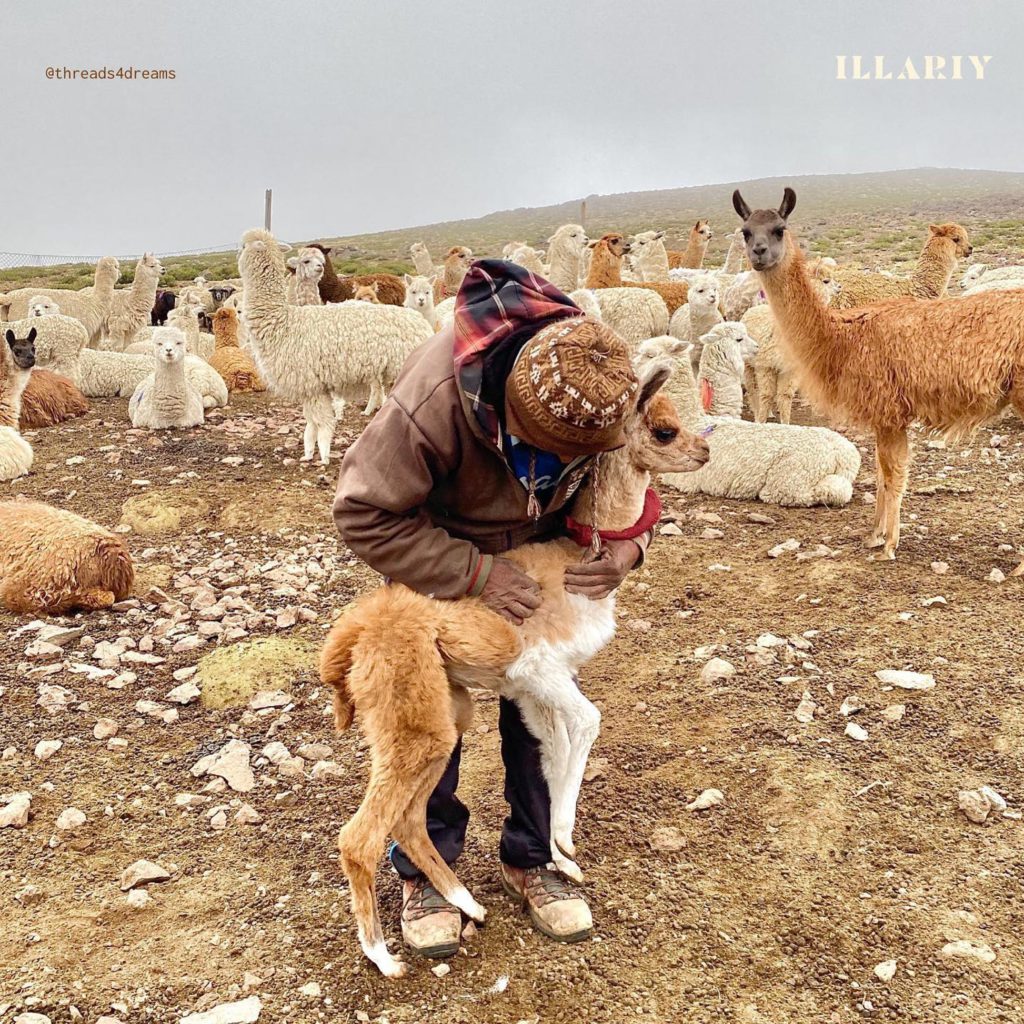 However, the livelihood of Guadalupe and others like her is threatened.
In Peru, there is a focus on commodity markets and exportation. The current supply chain has very little transparency and a high level of concealed information, especially for alpaca breeders who sell only raw material. Two Peruvian companies that process 95% of all alpaca fiber reap the majority of the economical benefits. Around 150,000 families in Peru are living in extreme poverty, which means they live on less than $1.90 per day. For these families, around 80% of their annual family income comes from alpaca and llama breeding. These producers have little access to economic opportunities.
The processing is partly hijacked by the industry, which generates little added value for the producers, keeping their incomes low. In addition, the textile industry tends to prefer white alpaca fiber because of the ease of dyeing with artificial dyes. This trend is leading to a type of monoculture. Currently, in Peru, about 87% of alpacas are white and only 13% are colored.
Climate Change Affects Every Corner of the Earth
Besides the economic and social burdens, these communities are highly vulnerable to climate change. There has been a decrease in rainfall and a degradation of soil, and climate change is causing melting the important ice caps of the Chila mountains to melt. Within a period of 45 years, 99.4% of glacial area has been lost, meaning that in a very short time this mountain range will be left without glacier cover, thus the area will be without water supply for feeding the animals.
One Tolconi alpaquera claims, "This year we bred about 80 young animals. 30 or 40 of them died. The weather is hard on the alpacas. The newborns get diarrhea or pneumonia because of the cold nights. When the sun burns so hot during the day, the young ones just fall over. It affects the animals very badly."
Natural Alpaca Fiber & the Women Who Spin It
To counteract this inequality, Peruvian veterinarian Carlos Enrique Michaud and Ursula Delgado founded the social business Illa Biodiversidad y Desarrollo ("Illariy") in 2017. Illariy is a women owned social business located in Tolconi, Arequipa, Peru. They created the business in a participatory way, respecting the indigenous ways of knowing, doing, and organizing. The alpaca herders and traditional artists from Tolconi use their ancestral knowledge to create an innovative products "with history."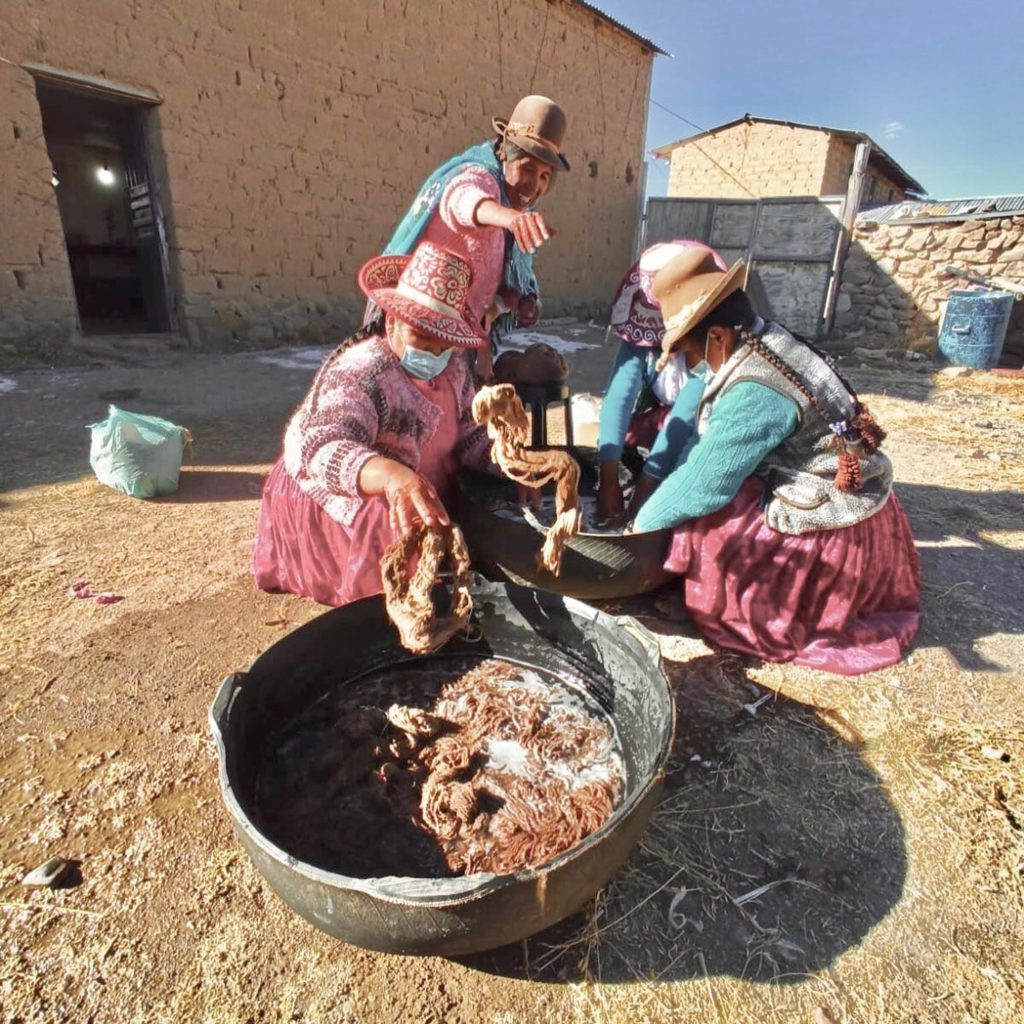 Currently Illariy and Threads 4 Dreams is working with 35 women to improve the alpaca value chain. They are developing the production of raw material (natural colored alpaca fiber), transforming it into value-added products, and linking artisans to specific markets. There are 24 different natural colors of alpaca fiber. By improving the natural color aspect of the alpaca fiber value chain, the women of Threads 4 Dreams empower themselves economically while also conserving genetic resources. Thus, they improve the livelihoods of their entire families and contribute to maintaining precious high-Andean ecosystems.
Under the commercial brand Illariy Threads 4 Dreams, we produce a small, but fine production of 100% handspun, natural colored baby alpaca yarn. The yarn is available in 100 gram wool balls. We offer a super-fine yarn that meets the highest quality standards. The value chain for this yarn is short and transparent. This guarantees fair compensation for the producers and animal well-being without harming the environment. Breeding, shearing and spinning all happens in the same village.
Each thread tells the story of the woman and her alpacas. Each ball of yarn can help you reach your next knitting dream.