Farmer Voices: Noble Ocean Farms
Kelp is a superfood! Kelp has tons of vitamins and minerals like zinc, iron, potassium, and magnesium. It is rich in antioxidants and is a great source of omega 3s too.
Kelp Farming: Where Science Meets Activism
Noble Ocean Farms is a startup with a big vision for kelp. The aquatic kelp farming project is located in a pristine region along the southern coast of Alaska, nestled between Prince William Sound and the Copper River Delta. Co-creators Skye Steritz and Sean Den Adel moved to Alaska where Eyak Elder Dune opened them up to the world of kelp. They were immediately inspired by its benefits to both humans and marine life. With his encouragement, they turned inspiration into a business.
I recently had the chance to speak with Skye about the team's interesting backgrounds, extensive knowledge, and beautiful visions, and we had a wonderful conversation.
Producers Market: Can you tell us a bit about the origins of Noble Ocean Farms? Where did the idea for kelp farming come from?
Skye: I finished my masters thesis in water resources management and knew I wanted to come back to Alaska. The special magic and pure wilderness of Alaska really had a hold on my heart.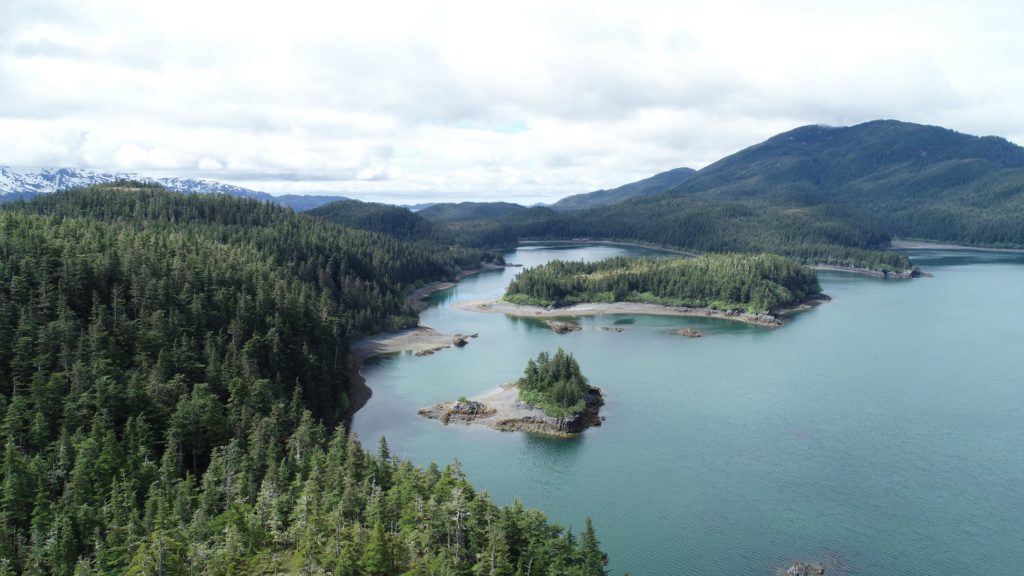 Once there, I connected with Dune Lankard, who has been working to protect his homelands and salmon habitats since the Exxon Valdez oil spill of 1989.
Dune shared his vision for mariculture, including kelp farming, which he believes can enhance food security, heal the oceans, provide habitats for aquatic animals, and sequester carbon. When I arrived in 2019, Dune was just beginning to recruit kelp farmers.
He gave my partner Sean and I a book called, "Eat Like a Fish," by Bren Smith, and the more we researched the more we realized we did want to be involved.
So we said yes! Dune helped us get the permits, and now this is our first season of planting kelp on our underwater farm.
PM: Can you tell me a bit about the benefits of kelp?
Skye: Kelp is a superfood! Some people refer to kelp as plants, but they aren't true plants. They are actually algaes. Kelp has tons of vitamins and minerals like zinc, iron, potassium, and magnesium. It is rich in antioxidants and is a great source of omega 3s too. That's where the fish get theirs, so if you don't eat fish, you can still get those good omegas from eating kelp.
PM: Was kelp a part of the diet of the native people of that area?
Skye: Yes, absolutely. Kelp has been a part of the diet of coastal Alaskan native people for thousands of years.
PM: How is the cultivation process?
Skye: The state of Alaska issues us a permit to farm 22 acres in Simpson Bay, about 11 nautical miles from town. The seeds come from within a 50 kilometer radius of that site from 50 different individual kelps.
The seeds are called sori, and they are currently growing in a nursery at Alutiiq Pride Marine Institute, on the other side of Prince William Sound. Just last week the sori were inoculated, and now they are growing on string wrapped around PVC pipe. They will grow there for six weeks–or until the baby kelps are about two millimeters long.
Then the nursery will send us the baby kelps, and we will deploy the underwater farm.
PM: Do you do kelp farming work in the winter?
Skye: That's the interesting thing! Kelp loves cold, nutrient rich waters, so it is actually a winter crop. This is why Alaska is such a great place for it. So yes, we'll be going out there once a week in the wintertime, checking on our gear and monitoring the growth of the kelp. Then we harvest in the spring between late April and mid-May.
PM: Wow, sounds cold! I am not envious of that part! Are there different kinds of kelp?
Skye: Yes, there are! We are working with the three species which already grow here naturally–bull kelp, ribbon kelp, and sugar kelp. This year we will be doing mostly sugar kelp and ribbon kelp. Bull kelp likes areas with more currents, so we will just plant one line of bull kelp as a test.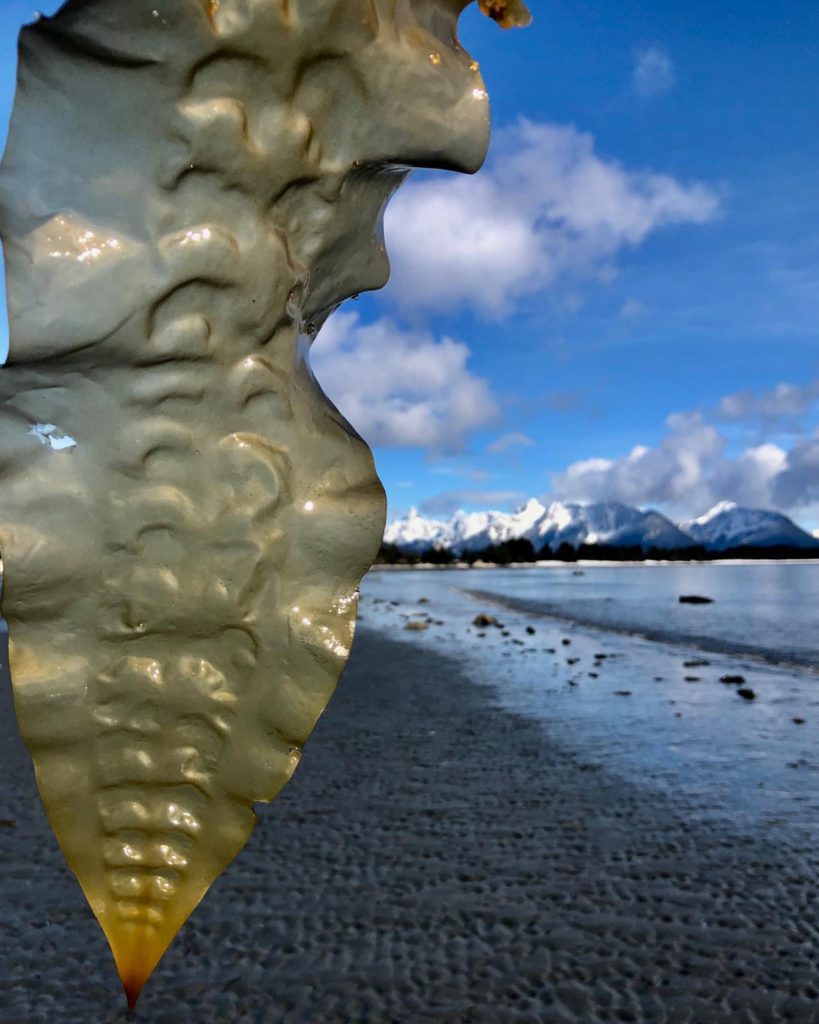 PM: How do you process or use the kelp after harvesting?
Skye: You can eat kelp fresh or raw, fermented, thawed (after being frozen), or dried. We will provide fresh kelp to families in the community here, using the model of a community-supported fishery. With kelp that is going elsewhere, we have to process it within a few days of pulling it out of the water.
We are in a very wet climate, a coastal temperate rainforest. It would be very energy intensive to dry the kelp here, so for now we will be freezing it. Then we will sell to companies that already make kelp products.
PM: What is your favorite way to eat kelp?
Skye: It is really good raw or blanched! It's so fresh and full of nutrients. We love to make our own seaweed salads. Just blanch it, slice it, and mix with a bit of sesame oil and soy sauce. Maybe some sesame seeds and chili flakes. We use it in all kinds of dishes, just like any green vegetable. We use it in chowders, or in egg scrambles.
PM: We might need to get a recipe from you soon! Can you tell me a bit about your current team?
Skye: Right now it's my partner Sean and I. Sean has a background in fisheries, biology, and research. He used to work with salmon populations, and he's coming in with a strong science background. Sean is our vice president and operations manager. My background in international diplomacy and environmental science, and I'm the co-founder and president. I'm the majority owner, so it is a female-owned company.
So that's the team now! And we will be bringing on some local young people with diverse skills very soon. Next week we will have our first team visioning session with three new people.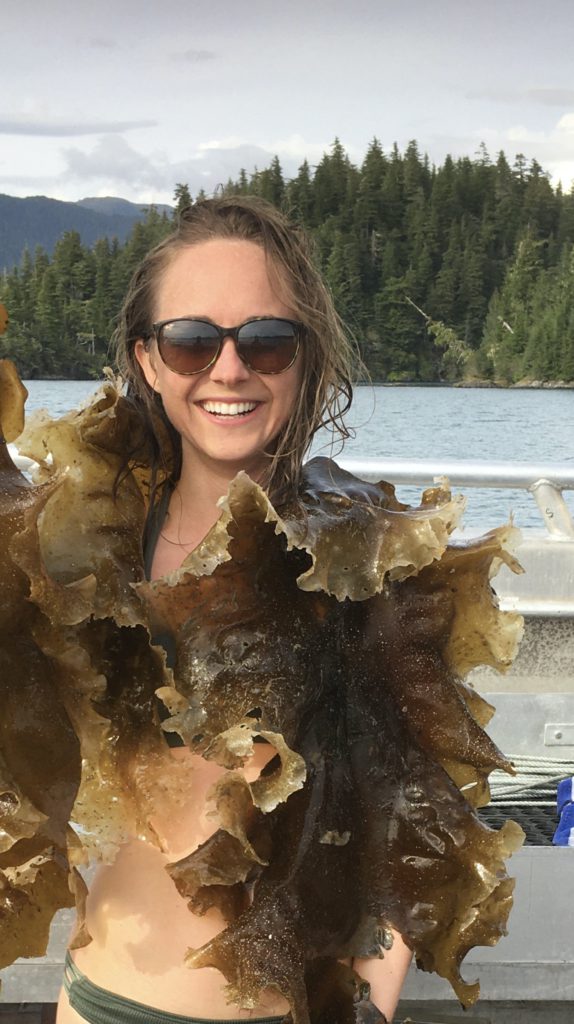 PM: Where do you see Noble Ocean Farms in five years?
Skye: We plan to start doing our own value-added products. That is within our three to five-year plan. The plan is to start with a fermented seaweed salad.
We want to have the most positive impact possible. Currently, we are investigating natural gear like organic or bio-based rope and packaging solutions other than plastic. That's one of our big things. We want to eliminate plastic from all stages of our kelp farming operation by year three.
We plan to expand our team and provide jobs for local people. There are a lot of great young local people that want to work with us, and this week we are having a potluck with people who want to be involved.
We want to have as much community input as possible along the way to make sure we are doing everything responsibly.
PM: What makes kelp farming from Noble Ocean Farms unique?
Skye: We are coming at kelp farming with both social justice and environmental justice lenses, and I'm not sure that's always the case in aquaculture. Sean and I are scientists and activists, and we are doing this because we care about the well-being of the collective and of the ocean.
We are really honing in on the details. For example, we are doing collaborative research with the Berkeley Center for Green Chemistry to figure out an alternative to polyethylene bags that the seafood industry uses. We don't want to put these details off. We want to be intentional and do things right from the beginning.
PM: If there is one thing you want the world to know about kelp, what would it be?
Skye: Kelp is amazing! It is sequestering carbon, it's countering ocean acidification, and creating healthier environments for marine creatures.
Kelp farming can play an important role as people start to shift their mindsets in terms of personal impacts. We can eat more foods that do not rely on fertilizers or arable land or freshwater resources.
I want people to know that you can do good for your body and the planet at the same time.
PM: I love that. Isn't it true that basically whatever we do, if it's good for our bodies it's good for the earth? And if it's good for the earth, it's good for us. These things are always together. They're never separate. And likewise, what we do that harms the earth is harmful to us. How did we get so far away from this intuitive knowledge?
Skye: Yes, and it makes me think of the relationship between extractive industries and violence, especially against indigenous women and nonbinary folks. And this is why these regenerative activities are so important for places like Alaska that have histories of such violence against the earth and people there from extractive practices.
So if you can provide jobs in industries that are good for the earth and good for people's bodies, then that's kind of a game changer. It's pretty revolutionary in places that have this history of colonization and violence.
And it's definitely tied into the healing component of this work.
It's definitely all connected.
---
Learn more about Noble Ocean's work and products at their profile with Producers Market.